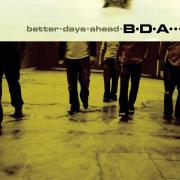 Outside of Nashville, Greenville College in Illinois may well boast one of the more impressive resumés in Christian Music. The institution is home to the Agape Festival, one of the longest-running Christian music festivals in the country. Its music department is one of only a handful of institutions offering a major in Contemporary Christian Music. And the college's alumni roster includes a veritable host of Christian artists and industry types, including producer/songwriter Matt Bronleewe (Plumb, Amy Grant, Rebecca St. James), former Smalltown Poets bassist Miguel DeJesus and, most famously, the members of Jars of Clay.
For better or worse, comparisons to the Jars collective seem inevitable for the five lads of BDA, who met as freshman dormmates at Greenville in September of 2001. And, true enough, acoustically-based tracks like "Endless" and "Into Our Midst" from the group's debut album, Better Days Ahead, do call to mind the JoC crew's characteristic adult alternative pop/rock sensibility. But elsewhere, and more prevalently, the group diverges from the straight line joining the aforementioned tracks and Greenville's most famous musical sons.
The invigorating "Answer Me" and "Truth Found You" mirror the straight-ahead guitar-driven modern rock of artists such as the Goo Goo Dolls and the Foo Fighters. The equally impressive "Endless" walks a more teen-pop-friendly line, while "Love is Here" sounds like a slightly harder-edged Rembrandts. "Let Love Come Down" is a splendid mingling of rock's modern and classic strains — think Lenny Kravitz and PFR jamming together on Journey's "Stone in Love." And the magnificently sparse acoustic guitar work on "All to Thee" calls to mind Wes King's most sublimely beautiful acoustic ballads.
To be fair, songs like "Don't Be Long" and "Into Our Midst" are somewhat listless. In the same way, the band frequently threatens to get lost among an ever-widening sea of similar-sounding pop and soft rock artists. Even at its most imitative, though, the freshman project is still never less than ingratiatingly catchy. Likewise, those who listen carefully can make out the sound of a band just on the verge of carving out its own distinctive musical identity. And the BDA fivesome certainly possesses the necessary ingredients to do so — sturdy vocals, imposing instrumental aptitude and a keen appreciation of those artists who have come before them. Taken as the work of a group of young musicians making their opening bow in the Christian pop arena, the Better Days Ahead record acquits its creators quite nicely.