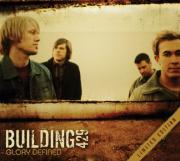 It takes a different mind-set to make your first exposure to the world something other than expected. Lucky for the members of Building 429, then, that they have such a mind-set. I mean, any old band can release a full-length album and hope it flies. But it takes guts to put out an EP first. Only five songs! (Well, six if you count an alternate version of the title track, "Glory Defined.") Fortunately, those five songs provide a tantalizing glimpse of what might be the next big thing on the Christian rock scene.
For those of you who have always wondered what it would be like if Third Day played Goo-Goo Dolls songs, and I know I'm not the only one, grab yourself a copy of this CD. But order quick, these limited edition EPs are going away as the band plans for a July 2004 release of its first full-length production, Space In Between Us. Lead singer Jason Roy's voice possesses the rare mixture of power and throaty rawness that is known well to fans of Mac Powell. But the music is heavy on guitars, and adds a touch of aggression to the thoughtful lyrics.
The title track has garnered quite a bit of radio play, but the best song on the album is probably "Free." Purely a celebration, this song conveys gratitude for the freedom from sin we have been granted through Christ's sacrifice. "Whatever You want / Whatever You need / I want to be the one to give / Everything of me." Loud and fun, it's just a great rock song. The comparison to the secular band Goo-Goo Dolls comes courtesy of "The Space in Between Us." Revamped for title track duty on their upcoming release, it is performed in the unplugged format here and really reminds me of the band from Buffalo.
As you can see from the above comparisons, this band makes a mistake or two in their presentation. It's hard to listen to this project without hearing hints of a lot of bands not named Building 429, including Creed and Big Dismal (who has their own identity problem, if you ask me). But, these guys appear to have, both collectively and individually, a heart for God, and they deliver some positive messages with some powerful and entertaining music.