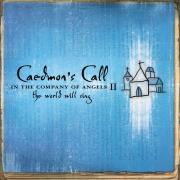 The fifteen-year pedigree of this Nashville band is beyond question or dispute, and even the departure of founding member and contributing songwriter Derek Webb a couple years back, while not wildly received by the band's fanbase, really didn't threaten to derail the hit parade. Webb was replaced in due course by former Normals ringleader Andrew Osenga, and dang if Andrew doesn't know his way around a classy, reflective tune or two. The World Will Sing, a companion to 2001's In The Company of Angels: A Call To Worship, is simply vintage Caedmon's Call: polished production, great, honest vocal performances and a sincerity matched only by their instrumental talent. They're a seven-strong outfit in 2006, and with this second installment in the series they continue doing what they do best: collaborating on terrific interpretations of other peoples' songs, while continuing to let various individuals within their ranks write their own little treasures.
You'd think that in almost fifteen years there'd be at least one album that would in hindsight be considered a misstep, but in my opinion these transplanted Houstonians haven't made one yet, and this record sure ain't it. "Draw Me Nearer" is anchored by the ever-dependable vocals of Cliff and Danielle Young (yes, they're married), and the simple chord progressions are given a beautiful layer of twinkling electric guitars and harmonies. Cliff takes lead vocal on Osenga's "Sing His Love", a bouncing acoustic ditty based on an ancient Chinese hymn text, and then - I've always been a sucker for her voice - the soft, subtle alto of Mrs. Young takes over on "Rest Upon Us," a quiet, reflective future classic, if there's any justice (her vocals on "Be Merciful To Me" are equally stirring). Another contribution from Osenga, "The Story," makes me miss the short-lived Normals even more, and pianist Joshua Moore hits one outta the ballpark with "The Fountain," which encapsulates the valleys between spiritual peaks in the first stanza: "I have not grown weary of revival/But all the time that lapses in between/In search for endless joy, my patience I destroy/'Til mercy opens up a mountain stream." "I Surrender All," "We Give Thanks" and "Let Me Be" are among the standouts that close out The World Will Sing, and the band, as they have since the early '90s, avoid being boring even though all their songs are cut from the same (inexhaustible) cloth. Whether it's jazz-inflected timing, a rumbling, hummable bassline, or longtime drummer Garret Buell's penchant for knowing exactly when to transition from subtle percussion to a snare-and-ride-cymbal rock pattern, Caedmon's remain top-notch.
Here's the bottom line. I work in Christian-hit radio when I'm not sculpting these masterworks of critical analysis for inReview, and there's a lot produced in that market that doesn't warrant listening. And though I'm an advocate of the barriers between "Christian" and "secular" music being abolished, there are certain bands and albums that are evidently, discernibly the product of a ton of communion with God and his people. Whether it's an intentional "praise and worship" album or not, every Caedmon's Call offering has been deeply worshipful in its own right, and no one - without exception - writes better grassroots love songs to the Savior.