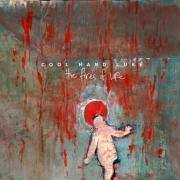 Enter the life of Shadrach, Meshach and Abednego. Enter their fire. Then realize we were never promised a Christian walk without fire. Once this reality settles, pick up Cool Hand Luke's sophomore release, The Fires of Life. Based on Isaiah 43:2 and Psalm 30:5, Mark Nicks, Chris Susi and Brandon Morgan lift scriptures and paste them right into the song, creating a mosaic of language mixed with delicate instrumentation.
Mark wrote most of the songs during a tumultuous time in his life, and one can see the turmoil within the lyrics. "Sequence #3" says, "You came and changed my life / You came to save my life / You turned Your ear and You heard me (Psalm 116:1,2) / Why can't I feel what I believe?" "Skydive" asks, "On top of a skyscraper / With a foundation of fears / Empty works and dreams / He thinks can't come true / For what can he do? / What has he to offer to You?" This hopelessness arises from sin, a sin that Mark equates to rats in the song "Rats in the Cellar." Reminiscent of T.S. Eliot's poem, "The Hollow Man," Mark says that "To set these traps / And kill these rats / I must expose the lie." But the lie cannot be destroyed by his own hands; he screams, "I can't clean my charcoal soul / What I need is the hand of an exterminator." The fire experienced in these songs arises from a sense of damnation. When rats run in the cellar of our souls, what can we offer to the King? And what happens when the fire feels more real that the presence of our Savior? What if life ended today; would God be pleased with the end result ("Cinematic")?
Cool Hand Luke is not afraid to address issues of real concern. Rather than create an album of sugarcoated songs, this band exposes the rats we're supposed to ignore. The guys put need on display and show humanity's vulnerability to compromise in "The Zombie Song": "Remember when we were real / Back when we could feel? / Once we were in this / Now we're of this / Jesus, turn these tables over." When the world becomes too comfortable, when the rats blend in too easily, the vermin must be burned by the hand of a King. In "I'm Not Running," we study the point of surrender: "I have given up on breathing and all I need is You / I am never going down for air again." God answers the invitation, as described in "Rest for the Weary." Within this song, Mark croons, "Oh, I just want to sing / I only wish there was a word / For what You mean to me / I would only say it once / In hushed tones / So it would not grow old / But all I have / Is 'I love You'." "Rest for the Weary" is a passionate blend of guitars and drums that crescendo with Mark's voice on the phrase, "You're the one who comforts me / When everyone is gone away."
Cool Hand Luke strives to offer real hope in the midst of the fire. In the title track, Mark comforts both the listener and himself: "Weeping may last for the night / The longest night of your life / But I can promise you that / Rejoicing comes in the morning." This song brought tears to my own eyes as I rested on the scriptural promise. We might feel like we're falling, but we end up landing in our Maker's arms ("Skydive").
The music to this project highlights and accentuates the lyrical poetry. Embracing a clear emo sound, this is the perfect album to calm a worried soul. The piano lines allow listeners to reflect on their current state of being. I'm a huge fan of albums that can serve as soundtracks to personal moments of meditation. When I need to unwind after a day of heavy artillery, when I need to nurse my burns, this is the album of choice. In reaching beyond simplistic CCM and embracing real life, Cool Hand Luke has produced a transparent album that will minister to many hurting individuals.