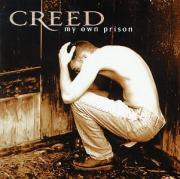 When Creed finally "burst" onto the scene, with hit singles and interviews on major entertainment shows, I'd already discovered them. Long before they were being hailed as the saviours of rock music itself, I had spun My Own Prison about ten times. When fools were rushing in to label them "Christian" without having heard their album...well, you get the idea. I was deeply impressed with Scott Stapp's highbrow, introspective lyrics and his unique, aggressive vocals. I've taken great pride in having discovered Creed before ten million people were buying their albums, and My Own Prison has become one of my favourite albums of all time.
That said, it's difficult to review this album and do it justice (or remain objective). But I'll try.
It should first be said that this band isn't half as groundbreaking as they've been made out to be. Soundgarden, circa 1994 was doing very similar work, and Creed seems to have been very heavily influenced. The superficial similarities (like the nearly analogous vocals of then Soundgarden frontman Chris Cornell and Stapp) are really only the beginning. Shades of Superunknown are felt throughout My Own Prison, and the title track has haunting similarities to "Black Hole Sun." Creed has only really become "post-grunge" since the release of their sophomore effort, Human Clay.
But Creed has always been lyrically above most bands of the grunge era. Though Alice in Chains, Smashing Pumpkins and, of course, Nirvana, spat angst-filled diatribes and professed anger at virtually every obscure figure in their admittedly desolate lives, Creed has lent themselves to social commentary ("In America"), soul searching ("My Own Prison") and existentialism (Stapp recently created the "With Arms Wide Open Foundation," which seeks to nurture parent-child relationships and bring to the public's attention the importance of such relationships). Where some would rail against parents, the government and all other groups whom they perceive to have oppressed them, this group is willing to ask the important questions and contribute to society, rather than try to tear it down.
My Own Prison begins with "Torn," a somewhat cryptic, bass heavy tune in which the singer seems to rail against empty religions that promise fulfilment, and expresses grief over the extent to which he has sinned ("I'm the one who/The only one who/would carry on this far.").
"Ode" follows, with heavily distorted arpeggios and unspectacular drum work. In it, the singer uses violent imagery ("Hang me, watch awhile/Let me see you smile as I die") and appears to criticize Pentecostalism ("One touch on the head, we believe"). Stapp's father was a Pentecostal minister.
"My Own Prison," the crown jewel of this album, and the main reason some groups hailed Creed as Christian, makes heavy use of religious imagery and has a seemingly evangelistic message. "A lion roars in the darkness," sings Stapp. "Only he holds the key/A light to free me from my burden/And grant me life eternally."
"Pity For a Dime" follows, a tune in which the lyricist reduces his self-pity to the value of a dime. "In America," track five, rails against abortion and materialism. The ensuing songs, "Illusion," "Unforgiven" and "Sister," are solid rock songs, but you won't find yourself singing them in the shower. Their messages are largely harmless.
"What's This Life For" and "One," the final two cuts are genuinely enjoyable, but the former is spoiled by Stapp's recurrent use of the word "godd---."
Most confounding about this group is their spirituality. Stapp has said that all of the current members of Creed "believe in God but...each differ on [their] methods of reaching Him." And they balk at calling themselves Christians. Their body of work seems to suggest that they're not.
The apparent dichotomy of this group can be summed up with the refrain from "What's This Life For." Stapp sings "They ain't here anymore/Don't have to settle the score/'Cause we all live under the reign of one king." He then proceeds to use the conjunctive "godd---" three times.
This album is definitely worth your while, but you'll want to skip track 9.