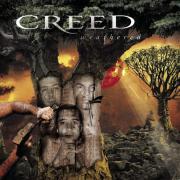 Any hopes of resolving the great "Christian/Non-Christian" debate are even more obscured by Creed's latest contribution, Weathered. Dark, cryptic rock still prevails on their most spiritual album to date, bringing along with it more questions, fewer answers, and excess listening enjoyment all in Creed's trademark style.
Weathered shows lead vocalist and frontman Scott Stapp and co-writer/guitarist Mark Tremonti at their lyrical best. Together the duo has penned a plethora of songs tackling intense spiritual issues, whether they realize it or not. Although songs such as "My Sacrifice" and "You Stand Here With Me" may have been written to convey an ulterior message, one can easily get the idea that they are lifting up worship to God. "Freedom Fighter," the second track on the album, lashes out against Satan and his army of evil as Stapp describes himself "raging on in holy war," intent on making sure Christ prevails. The follow-up, "Who's Got My Back?" places the band in the midst of doubt, faith, and crisis, asking "Where is God when I need Him?", while "One Last Breath" similarly pleads with the Father to hold us when we feel like giving up. Later on, the band sinks to a more personal level on the title track, discussing the trials they've been through (one of them was losing their bassist and founder Brian Marshall), hence leaving them "Weathered" but determined to push on in the face of adversity. Saving the best for last, Stapp closes the CD with two of the most poignant ballads he's ever written: "Don't Stop Dancing" and "Lullaby." "Don't Stop Dancing" can easily be predicted as a future single, and is an anthem for the downtrodden by reminding us that we all have our own share of tribulations in this world. The latter, perhaps something Stapp wrote for his son, is not lyrically complex, but holds the most important truth: "Just give love to all." The only track with a blurred philosophy is "Signs," where the band clearly states, "This is not about God. Spiritual insinuations tend to shock a nation." Such a statement has to make listeners wonder.
Creed's musical style has really evolved since their past two projects, and now it is more polished and refined. Tremonti and Scott Phillips, drummer, seem to have increased skillfully as musicians, elevating the group past their "post-grunge" sound heard on My Own Prison and adapting to a more modern sound. Track 9 on the album, "Hide," is proof of that. "Hide" could easily be described as "Higher-Part 2" except with more brandished guitars that give the song a calmer, smoother feel. "Bullets," Weathered's opener, is the definitive rocker of the disc, while "Freedom Fighter" closely follows it up. These are outstanding songs, but the most amazing musical journey takes place on "Who's Got My Back?" which is over 8 minutes long. Starting with a Cherokee chant and then continuing to sleepily plod along, Tremonti's guitar and Stapp's vocals suddenly crescendo into a blazing downpour of harmony and then gradually reside until the song ends as it began. "One Last Breath" and "My Sacrifice" also deserve honorable mention as epic rock creations, the latter sounding the most reminiscent of past Creed works. "Don't Stop Dancing" and "Lullaby" again raise the bar for Creed ballads, both with beautiful, soothing melodies, but with a strong blend of rock guitar on "Don't Stop Dancing" and a guest appearance by Stapp's sister on background vocals. "Lullaby" on the other hand is just that; don't expect any headbanging here, but rather prepare to rest easy in the smooth-as-silk vocals and sing-song guitar.
Although they aren't Christians (yet), Weathered shows promise on the horizon as a spiritual breakthrough for the band. With their enormous crowd following, they could easily make an impact on many people if God were willing to use them. Let's pray that ultimately Creed will find the answers they seek.