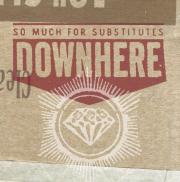 Downhere's move from the open spaces of Saskatchewan to the hustle and bustle of Nashville has not distracted them from the emotional experiences of the everyday. Instead of a grandiose introduction to their anticipated sophomore album, a modest acoustic guitar strums over Marc Martel's humble vocals. "What It's Like" opens the disc by tapping into painful emotions while recognizing Christ's effort to understand our struggles. "Isn't it always the question / How do You know my condition... You came down to me / To know what it's like." It is this consistent heavenward gaze that sheds enormous light on the beauty of Downhere's music.
Martel submits his potential to God's crafting hand on "Stone." "Breaking Me Down," a surefire radio hit, joyfully expresses the growth process in a life submitted to Jesus. The beauty of Christ's sacrifice and simple professions of faith are sung on "Illiad," a tune that calls Coldplay to mind. Rising strings complement electric guitar strums and Larry Mullen-esque drumming from Jeremy Thiessen. Backup singer Jason Germain takes the lead on "Starspin," a bold and energetic tune that can be sung during a rock or worship set.
On this second effort, the band moves away from piano-driven ballads and overwhelming string arrangements. Instead, the group begins and ends with the electric guitar. This transition will catch some fans off guard, but Downhere handles it surprisingly well. While Martel and Germain split the singing duties on the debut, Martel rightfully takes the lead on Substitutes. Germain's exceptional background vocals ground his partner's higher tones. An increasing rock influence is seen from Thiessen and bassist Glen Lavender, as the band experiments with varying rhythms. Through the changing musical landscape, the lyrics continue to express honest emotion in poetic ways.
The second half of the disc contains catchy choruses, but less memorable tunes. "How They Loved Each Other," "In America," and "Last Night's Daydream" will stir the soul, but fail to hit as hard as the opening 5 or 6 tunes. That being said, this is an exciting rock project that could be a great gift for a searching soul.