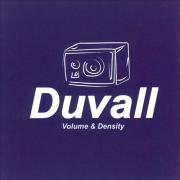 It's always big news when Christian artists "cross over" into the mainstream world, but the opposite case is a rare and welcome find. Meet Josh Caterer, the lead vocalist and guitarist for Duvall. Formerly of Chicago band the Smoking Popes, Caterer battled drug and alcohol addiction until a 1998 conversion to Christianity gave new direction to his life. He soon left the band to pursue his new faith in the music program at a local church. However, as any musician or fan can testify, music is more than a hobby—it's a passion. And so, in 2001 Caterer triumphantly returned to the Chicago music scene with Duvall, boasting a familiar garage rock sound with a whole new message.
Volume and Density centers on Josh Caterer's voice, which has the same slurred, almost lazy quality of Radiohead's Thom Yorke. If Duvall were to make a music video, it'd feature Caterer slouched on the sofa, crooning lyrics with a bored expression. But in spite of its mellow vocals, Duvall knows how to rock. The first track, "All in Your Hands" offers a lively intro to the CD. A wailing guitar solo bridges the lyrics, which speak of humility and accepting God's guidance in our lives. Caterer draws on past struggles for the song's honesty, saying "I don't know where to start / You pulled apart my life and breathed new life / Into my heart when I met you."
The rest of the album is decent. "Standing at the Door" addresses the everyday distractions that often take priority over more important things in life, delivering its message with a sense of humor. ("What did you say? / I can't hear anything with these headphones on. / I like to play my music just as loud as it goes. / It empties my mind and helps me with my time. / It distracts me from the sound in my heart.") "Racine" continues Duvall's catchy, punk rock sound, while the easygoing electric guitar in songs like "Where I Belong," bears a slight resemblance to an unpolished Matchbox 20. But a few truly skip-worthy specimens dwell among these satisfactory tracks. "Taking Me Home" plods along at a dreary pace, and although the remake of the 1983 Spandau Ballet hit "True" is an interesting change from the sappy original, it almost feels wrong to strip the song of its corny harmonies. "Jesus Never Leaves Me" has a tired melody and clichéd lyrics, but at least its gentler sound provides a nice bit of variety from the album's overworked rock textures.
It's this trite sound that serves as the CD's pitfall. Although the first few songs are enjoyable, it doesn't take long to realize that they're more or less synonymous with the rest of the album. Almost every track is composed of the same formulaic mix, combining pounding bass, electric guitar and drums in an all-too-predictable fashion. The guitar solo that seemed great in the first track gets a little haggard by the end, having been recycled in some form several times throughout the CD. The quality isn't poor, but it's unoriginal, and the similarity of the songs leaves the project lacking and altogether mediocre.
That said, Duvall has potential. They've generated a batch of local fans and could probably expand their audience…if they put in the effort. They've toured, but not widely, and although their CD can be found on Grassroots, they don't have the Christian marketing they need to achieve success. Volume and Density could also stand for some better cover art, as the CD's jacket is as dull as its title and unlikely to inspire many sales. All in all, unless you're a big fan of punk rock, you might want to give this CD a pass. But don't push Duvall from memory, because with a cover artist, some variation, and a publicist, Duvall could very well reappear to steal the show with their next CD.