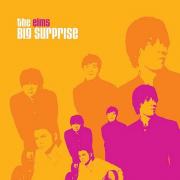 Joy—where'd it go? Child-like faith has evolved into doctrinal systems. Relationships (think cliques and divorces) have become cruel. And give-it-everything melodies set to jangly guitars are pigeonholed as "oldies rock." A million debates, disappointments, and drab albums later, audacious rockers The Elms prod listeners into a carefree reality.
The sort of record where every song will have its own fan club, The Big Surprise doesn't cower behind syrupy production, nor does it repeat some sweet nothing and call it a chorus. "You can't ever take it or fake it" attests to the lyrical coyness here; so does "put 'em up and say it today." Off-the-cuff remarks let out The Elms' secret: happiness is ours for the taking, so why make it so complicated? New listeners won't immediately notice all this and, fortunately, these are four seasoned musicians. Flamboyant Owen Thomas (lead writer/singer) displays a stature that belies his age, even while his words hash out specific, post-teen moments. Sensitivity to every song emanates from Owen's bro Chris (drums), who clearly knows and loves his job. On bass, Keith Lee Miller rounds out the rhythm section; guitar fill-ins and vocals compliments via Thom Daugherty are a show within the show.
Segueing in and out of jock rock, Big Surprise opener "Hey, Hey" cheers on the victory of faith over fair-minded doubts. Lifting one's countenance, Owen and Co. offer "Here's My Hand" in a song that first brings The Love Sponges Quartet to light, along with The Elms' Beatlesque style. Like the Fab Four's hits, breezy strings and pleasant guitar slack off on the effects work, but require lyrics and melodies to be precisely attuned to each other (as these ten cuts are). High-strung energy made flesh, track three uncovers "Who Got the Meaning": namely, those who stay loyal just "cos You say so," leaving Superman feats to One more capable. Similar yet vastly different, "The Buzzing Won't Stop!" and "A Minute to Ourselves" pace the album well, the former a senuous ode to peers, the latter about the God/man relationship ("Minute" plays on the indelible line "We could find places to go ~ We could unlearn all we know").
Planting irony, yearning, and conceit in well-watered creative soil, album centerpiece "The Big Surprise" grows on you like moss. All four minutes, forty-one seconds pointedly wallow in self pity, exhibiting how good deeds cover heart issues. Radio hit "Lifeboat" teems with a 1990's rock rip tide, 21st century worship that stays aware by hearing God's voice. "Let your Father breathe" impels the flawless pop creation "You Get Me Every Time," a reading into perceptions that grabs truly momentous work from this elite foursome (they would surely credit producer Brent Milligan). Reappearing from The Elms EP, a confession of other affections called "You're Glowing" eventually takes up the God chase. The album closer is the Elton John-imitative "Real Men Cry," which either stumbles or solidifies the band's footing, depending on who one surveys. As always, The Elms find preaching less helpful than pinching listeners with tart conclusions: "Go where the wind blows ~ But you'll answer to something someday."
Such sterling harmonies and never-lagging rock symphony spell out many prosperous years ahead for The Elms—so much so that Beatles comparisons won't stop coming. John Lennon's competent quartet lived off their era's prevalent loves, discarding innocence for sensuality (albeit toned down lyrically). Two generations later, an artless culture screams impurity, prompting a social rebellion more legitimate than that in the 1960's. Only The Elms' revolutionary goal isn't cultural or political, rather to muddle through another day's pleasures and pitfalls. Certainly The Big Surprise if ever there was one.