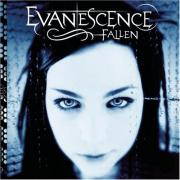 There is faith, and there is doubt. As Christians, we tend to dwell in the realm of faith, where we have assurance that our blessed Father has a plan to prosper us, not harm us, and to give us hope and a future. Between the extremes of faith and doubt, however, there is a shapeless, grey void that each of us has visited at least once in our lives but have never dared to explore. Fallen, the debut record from Evanescence, dares to traverse this region, plunging deeper and deeper courtesy of their dark, articulate poetry.
"Going Under" is the track that launches the band's adventure, introducing listeners to their gothic industrial rhythms and lead singer Amy Lee's brooding yet captivating vocals. Paralyzed by the overwhelming presence of doubt in the grey matter, the group's first thoughts are to struggle against God: "Scream at me, I'm so far away / I won't be broken again / I've got to breathe / I can't keep going under." As the band moves onward, these rebellious thoughts are later relinquished in turn for salvation, as presented on "Tourniquet" and the radio hit, "Bring Me to Life." Still, these redemptive pleas are not without a hint of doubt ("Am I too lost to be saved? / Will I be denied Christ?"), and the further that Evanescence descends, the blacker the grey becomes. "Everybody's Fool" demos some impressive, heavy drum loops and is the first of several tracks to feature a full choir, whereas "Haunted," on the other hand, is an unforgettable, melodic tumult that brings nightmares to life. Ben Moody's demoniac guitar solo during the bridge is amazing, but unfortunately God is again viewed as the antagonist: "Fearing you, loving you / saving me, raping me / I won't let you pull me down."
The band takes a breather from their expedition long enough to pen a ravishing ballad dedicated to an absent best friend in "My Immortal" and a regretful ode to their descent in "Imaginary," in which they seek to escape the rigors and trials of life. Prolonged exposure to the grey seems to be taxing their supply of faith, but they make one final effort to push forth on "Taking Over Me." A slow dripping of piano keys violently melts and hardens into a shock rock experience that ends with a declaration of dependence on the Father: "I believe in you / I'll give up everything just to find you / I have to be with you to live to breathe." Finally, Evanescence reaches their destination, the final moments of life, and captures the juncture on "My Last Breath," blending electric technosynth with heavy, thrashing guitar not unlike your typical Skillet performance. Fearing what lies in the great beyond, the band ends their journey with a "Whisper," confessing their fear of what they've seen and heard and "forsaking everything I've fallen for." The final seconds of the disc feature a momentous display of maleficent strings and the voices of the aforementioned choir dying down as all fades to black.
Evanescence may have survived their episode intact, but they certainly aren't unscathed. While Fallen is a superior artistic endeavor deserving of acclamation, most of the songs contain lyrics that seem as if they wish to push Christ away rather than accept Him. Because of this, we can only recommend Fallen on basis of artistic merit; on this level it's a superbly crafted piece of work. Still, due to the controversy surrounding the band and whether they are actually Christians or not, you can probably find more encouraging material elsewhere.