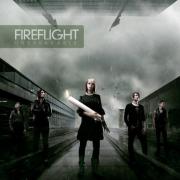 I have been, from my youth, a "Rocker Chick." I attended every "Monsters Of Rock" tour in the '80s as well as Queensryche, G&R, Scorpions... you get the picture. I have also never been a fan of "female-fronted" rock bands. When an associate recently handed me Firelight's Unbreakable CD, he assured me, as a rocker, I'd like it. I smiled politely. Not wanting to offend, I took the CD. (Who passes up a free CD anyway, right?)
I immediately did not like the CD packaging. I don't like the pictures. If they're meant to be flattering, they fail. Already skeptical, I decide to listen anyway. That way, when asked if I'd listened to the CD, I would not have to lie and repent later.
The opening song and title track, "Unbreakable" did get an eyebrow to raise. Hum. Maybe this chick is on to something. I could hear a little Lita Fordish sound in Dawn Richardson's vocals. She has a strong voice belting out, "God I want to dream again / Take me where I've never been / I want to go there / This time I'm not scared / Now I am unbreakable." I found myself liking this song. I knew I had heard it from somewhere but couldn't remember where. I guess I have to openly admit now that I watched NBC's Bionic Woman, who featured this song.
"You Gave Me Your Promise" was what I thought it would be. A song that would not make me take the time to change the channel on the radio, but not one that would make me buy the CD. It for the most part is a good song, with lots of repeating lyrics. "You gave me your promise, You gave me your promise."
"Brand New Day" is a multi-tempo song that has the slower, softer verses that makes you forget there are guitar players in the band. It redeems itself on the chorus and bridge. Other songs worthy of note were "Forever" and "Hunger."
The only other song on the CD that I liked enough to pause, play, repeat is "Stand Up". "Don't run away / Don't be afraid to stand up if your broken / Stand up if you feel ashamed / You are not alone when you feel this way."
"Wrapped In Your Arms" will be the bands "CCM" ballad song to get them radio air time. Not that it's a bad song, it is good, and this is a business. But if people are buying the CD thinking that this is the bands "sound" they may be in for a surprise
I would recommend this CD to friends due to the fact that there are a couple of really good songs mixed with the so-so songs. So now I don't have to lie and repent.
Alright, lets rock it!