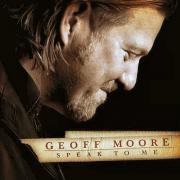 It's hard to believe that a quarter century has passed since Geoff Moore first decided to leave the secure confines of a steady-paying job at the family-owned foundry (Moore Iron Works in Michigan, for the curious), pack up his worldly belongings and head south to Tennessee to carve out a niche in the then still nascent Christian rock music scene. Difficult though it may be, it was indeed 1983 when a newly-married, 22-year-old Moore stepped into a Nashville studio to put together his first demo recording under the watchful eye of Whiteheart guitarist and songwriter, Billy Smiley. And the rest – sixteen albums, nine Number 1 singles, thousands of concert appearances and a house full of kids – is, as they say, history.
Given his status as one of Christian music's elder statesmen, Moore has arguably gained the right to take as long as he wants between projects. That said, with a half decade having passed since his previous major-label outing, expectations surrounding the current effort were understandably high. Fans of Moore's older work will be excited to know that Speak to Me marks a return of sorts to the rootsy, straight-ahead fare that helped elevate the Foundations (1989) and Pure and Simple (1991) records to their rightful position as Christian rock landmarks. Longtime followers will be equally delighted with the sublime beauty of "Every Single One" and the remade "This Is My Father's World," which find the artist's distinctive singing voice as warm and full-bodied as ever. Perhaps most reassuringly, cuts like "Erase" ("Until we ache like you ache/ And our heart is undone/ By what makes your heart break") show that the honest, insightful songwriting that rendered Moore's earliest work so remarkable has been virtually unaffected by the passage of time.
To use the sporting analogy, though, a distressingly large portion of the latest release seems not so much the work of a marathon frontrunner barreling with ease through the last third of his race, but rather that of a seasoned athlete running at about half speed after an extended layoff. The leading cut, "Speak to Me," is a textbook example, often threatening to catch fire, but never actually doing so. "Your Day" and "When I Get Where I'm Going" are similarly drowsy, a fact only accentuated by placing them so close together near the beginning of the album, where most artists stack their most stirring songs. Of course, there's nothing inherently wrong with slower material; indeed, many of Moore's most moving compositions have been ballads. But where classic soft-pop singles like "Listen to Our Hearts" and "The Keeper" found a fully-engaged Moore singing atop instantly-memorable tunes, too much of Speak is weighed down by its nondescript melody lines and Moore's less than fully animated delivery.
While Moore's recent spate of extra-curricular activities – the adoption of his third and fourth children, co-founding the Overflow artist management company, and his ongoing work with Compassion International – has almost certainly whittled away at his available songwriting opportunities, it still bears mentioning that nearly half of the tracks on the present project are cover versions. While this isn't necessarily a bad thing, in and of itself, it is still a bit disheartening to note that the covers are, on average, superior to the songs that Moore penned himself. Additionally, four of the ten cuts appeared on the 2005 two-volume Every Single One anthology, an independently-released collection of new material and rerecorded favorites. In fact, given that the only two songs on Speak that could truly be considered essential additions to the Moore canon – "Every Single One" and "Father's World" – also appear on ESO Volume I, the latter disc is arguably the better purchase, particularly for those who have yet to root through Moore's impressive back catalog.
On the positive side of the coin, fans who lost Moore during his excursion into lighter-hearted, youth-friendly territory during the Friend Like U (1992) to Home Run (1995) period will find the current album's lyrics refreshingly mature by comparison. Even so, for all of their frivolity, the projects of the '92-'95 timeframe possessed an endearing uniqueness and undergirding sense of cohesion that render those of the latest outing distinctly pale by comparison. Likewise, with the possible exception of "So Long, Farewell" and the title track, the invigorating hard rock that drove early singles like "Rescue Me" and "Go to the Moon" is all but missing in action this go-around. Judged on its own merit, Speak to Me could hardly be labeled as bad, and any material from Moore is certainly cause for celebration. Taken in the context of that which has gone before it, though, it's hard not to wish that the new album was a more lively and distinctive affair than it is.