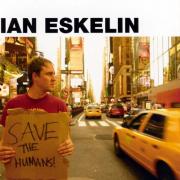 cMW NEWS BULLETIN - With the United States entrenched in the most intense Presidential Election yet, President George W. Bush and Senator John Kerry continue to exchange blows on relevant topics such as terrorism, the economy, and the environment. We've just been notified that a new candidate intends to enter the race for President, casting his bid on September 21, 2004. All Star United's lead singer, Ian Eskelin — who has no prior political experience whatsoever — is blazing a campaign trail across the country. His platform? Save the Humans.
After attending one of Eskelin's campaign rallies, we've drawn the conclusion that not only is he an eloquent speaker, but he gets straight to the heart of issues that matter. However, he prefers to let his actions do the talking and believes that by setting an example for others to follow, we can make a difference ["Shout"]. Eskelin strongly cites his faith in God as the reason for being the man he is today ["Solid Rock"] and passionately croons that he wants to tell everyone the Gospel story of Jesus Christ ["I Love to Tell the Story"]. In fact, Eskelin believes that a lack of faith is the reason the human condition is suffering, and nothing short of God's mercy can save the world now. "...We're an awful mess," Eskelin comments. "We can purify the oily seas, we can empathize with manatees, even chit-chat with chimpanzees, but we're still dying from a sin disease. ['Save the Humans']."
Eskelin blames pop culture for leaving God out in the cold. In fact, he admits that people can get away with almost anything, but mentioning God's name is met with bitter rebuttal and political correctness ["Taboo"]. "Party on, let freedom ring for the shock-jocks and the gangsta' kings," he states. "But mention Jesus in the public square... the tables turn and the tempers flare." To correct this problem, Eskelin says that humanity needs to look at our lives in perspective and think about what we're really worshipping: money, popularity, and other false idols. Clearly he is not above using sarcasm to get his point across. "Vegas lives inside my veins," he joked, eliciting laughter from the throng of listeners. "Dating Britney is my dream ['American Idle']." Eskelin also postulates that earthly possessions have little importance, and that humanity should strive for a higher calling ["Throw It Away"]. Finally, this new candidate is in tune with the younger generation. He frequently declares that, "We are the future," and commissions the youth of America to get "Amplified" and let their voices be heard.
While the spirit of Eskelin's campaign is nearly synonymous with the glam rock style of his band, All Star United, there is also a mellow, soft-spoken side to this candidate. He has been closing his rallies as of late with his performance of "Magnify," a beautifully flowing worship tune that sums up exactly how he feels about his Savior: "To worship in your presence is the reason I was made…let the angels cry and my soul reply, 'Holy, holy is your name.'" These lyrics may seem no different than what's currently on the CCM market, but Eskelin performs them with such passion and devotion behind his vocals that they are ultimately more convincing than other "offerings."
Usually cMW News steers clear of drawing biases, but Ian Eskelin is a candidate we are truly excited about. His Save the Humans campaign has a high-strung energy behind it, painting us a clearer picture of this man's heart. He is honest and outspoken on issues that matter, telling American citizens what we need to hear rather than what we want to hear. His inventive way of lacing pop culture into his speech is nothing short of genius as well as his ability to change his attitude from sarcastic to worshipful at will. For these reasons, cMW News would officially like to throw its support behind this candidate for the 2004 Presidential Election. A vote for Ian Eskelin is a vote to save the humans.