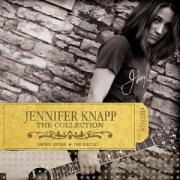 Six years ago, "Romans," a simple look at Christ's death on the cross and how it changed all of our lives, hit Christian radio. It was sung by a woman with a raspy, yet beautiful, southern flair, accompanied by excitable strumming and fiddles blazing. For many of us this was the first time Jennifer Knapp came into our lives, and since then we've been treated to enriching, rootsy music with leagues of personal depth. Three albums later, Gotee Records has released a two-disc set entitled The Collection, which is just that: fifteen of Knapp's best tracks selected by appreciative fans and friends across the globe.
The Collection is without a doubt the definitive Jennifer Knapp record. The ultimately satisfying tracklisting includes her latest hits, including "A Little More," "The Way I Am," and the eternally beautiful "Say Won't You Say." Following those up are other stellar cuts such as "Undo Me," "Breathe on Me," and the almost Dixie Chicks-like "Diamond in the Rough," after which the second disc is named. If you're familiar with Knapp and her music, you've most likely already picked your favorites, but for newcomers, highlights of the record include the emotional "Hold Me Now," the surreal folk experience "Martyrs & Thieves," and "Whole Again," an upbeat, enthusiastic prayer of searching and strength. Rounding out this must-have collection are "Into You," "Lay It Down," and of course, "Romans," among a few others.
The Collection's second disc, entitled A Diamond in the Rough, doesn't offer much in the way of new material, but Knapp's avid fans will appreciate the previously unreleased demos from each of her three albums. These demos are very stripped down compared to material featured on the first disc, and yet they're still effective, showing a depth to Knapp's songwriting we haven't previously seen. One such example is with "Martyrs & Thieves." Without the bells and whistles of the recorded version, the demo is cut back to merely Knapp and her guitar, giving the song a highly reverent, worshipful air. Amidst the many unreleased demos, A Diamond in the Rough also includes Knapp's previous collaborations with other artists, such as Grits ("Believe"), Audio Adrenaline ("It Is Well With My Soul"), and Mac Powell and Nichole Nordeman ("Sing Alleluia"). Finally, a previously unreleased version of "Say Won't You Say" featuring Michael Tait stands as the most notable collaboration. The liner notes say it was recorded for a movie that was eventually scrapped, which is a shame since Knapp and Tait's intertwined vocal harmonies are flawless. Production is also stepped up a notch over the original version, making this already endearing song even more beautiful.
With her status listed as "on hiatus," we really can't tell whether or not this is the last we'll hear of Jennifer Knapp. If not, then The Collection is a fine starting point for new listeners to jump in, and it also makes a decent "best of" album for her current fans. Should Knapp decide to leave the recording industry, however, The Collection not only serves as a fine tribute to her tenure as an artist, but also as the beginning of her legacy.