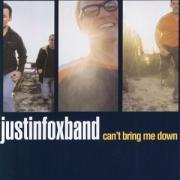 One of the hardest things in reviewing-if not the hardest-is reviewing a CD that you don't like. Every reviewer is bound to come across it at some point, and when he comes to that bridge, he trembles before stepping out. There is a fine line between being truthful and being mean, and it's impossible not to worry about falling off that narrow bridge and into the depths of cynicism.
As you've probably figured out, Can't Bring Me Down is one of those disliked CD's.
It's easy to see that Justin Fox has the best intentions for his music. The lyrics are designed to be uplifting and worshipful. Everything has been seamlessly produced and polished to make it appealing to the radio crowd. And, to top it all off, high class session musicians (including ones that have played for dc Talk) were used to make this record. But, unfortunately, that doesn't make for a good album.
While the lyrics follow a consistent theme of trusting in Christ, they are often clichéd and far from poetic. "I think of all the promises you made / That I can hold on to / And I think of all the rescuing you do / And I don't know what to say" (from "Beautiful"). Honest, yes. Well-written, no.
Musically, the band doesn't fare any better. Yes, everything is well-produced, but it was simply a matter of using ordinary melodies and stale sounds. Guitar riffs, keyboard effects, piano scales, whatever: they've all been recycled from other recordings.
Can't Bring Me Down is likely to have listeners thinking, "Haven't I heard that before?" Yes, you have, in a thousand other pseudo-worship songs that fill up Christian radio these days. Is the problem with that radio scene then? Who knows. The only thing I can say for sure is that this album isn't worth its price-even if you get it for free.