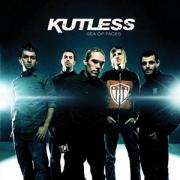 Few people in the music biz are unfamiliar with the infamous Sophomore Slump. We all dread it—musicians, listeners, labels, and music reviewers—and yet many artists have fallen prey to it. To avoid becoming its next victim, Kutless uses a "catch-all" strategy on their second release, Sea of Faces, employing the crunchy hard rock they're best known for as well as some metal, synth, worship, and yes, even a tad of adult contemporary. The result works well... to an extent. The good news is that they've managed to escape the Sophomore Slump, albeit just barely. The bad news is that Kutless just doesn't sound like Kutless anymore.
Every complaint about Sea of Faces can be summed up in one word: production. Apparently not some of Aaron Sprinkle's finer work, the overall loud factor we received from the group's self-titled debut has been diminished to a dull roar. In fact, the only traces of the band we once knew show up in "Let You In," a raucously vicious track that asks God to strip us of our pride and dominate our lives, and "Treason," the album's first single. Its ear-splitting guitar combined with lead singer Jon Micah Sumrall's edgy vocals makes it an instant radio hit and favorite among listeners. "Passion" is also a triumph; it describes the crucifixion in heart-wrenching detail, accompanied by a weighty combo of strings, drums, and synthesizer effects. Despite the gruesome depiction we hear of Christ's death, Sumrall sings, "Yet it's comforting to me," a reminder that salvation is a free gift from God. All we need do is accept it.
That isn't to say the remaining tracks on Sea of Faces aren't worthy—on the contrary, the band is in top form throughout the disc, pulling off instrumental wonders such as "All Alone," "Better for You," and the title track. They just aren't likely to garner the attention that previous hits like "Run" or "Pride Away" did. "Not What You See" attempts to reclaim some of Kutless's former glory, but there's a tad too much dissonance during the chorus, and the unnatural chord progressions are likely to strike a sour note with listeners. The band's crack at worship comes in the form of "All the Words," and there are many 4Him-esque moments throughout. The sincerity of the song is appreciated and nothing short of moving, but it strays from what typically defines Kutless: heavy, guitar-fronted rock. Lyrically, however, "All the Words" spills forth praise and adoration for Jesus Christ, and it's just the beginning. We get a glimpse into the group's heart on each and every track, with "Better for You," "Treason," and "It's Like Me" having noteworthy spiritual perspectives. A favorite reflection comes from none other than the title track: "I am not just a man who is lost in this world / lost in a sea of faces / your body's the bread and your blood is the wine / because you gave up your life for mine." Similar to Jonah33's "All for You," "Sea of Faces" proceeds to say that had there only been one person on Earth, Jesus still would have died for their salvation. It's a mind-blowing truth about God's love that we can never hear enough.
Sea of Faces is not a bad record by any means. It's not even a mediocre one. However, it pales when compared to Kutless's first offering, and because of sub-par production and a few hiccups here and there, the Sophomore Slump almost claims it. Moreover, the band faces the threat of losing their identity with the release of this project. Thankfully, the new classical elements and excellent songwriting manage to pull it out of bargain bin territory. Sea of Faces may not claim any record breaking sales figures, but it does help to further impress Kutless's bearing on the Christian market, however small that impression may be.