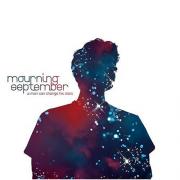 Humans are creatures of habit. It's evident in our friendships, our eating habits and sleep patterns, and our various tastes. When the emo-rock movement hit the music industry, bands begin popping out of the woodwork to give their own interpretation of this new genre. Mourning September is one such band. Taking melodic guitars, defined bass lines, and borderline-screaming power vocals heard in bands like Sanctus Real, Dogwood, and Number One Gun, A Man Can Change His Stars adds yet another emotional sound to this suddenly emotional industry.
"Closer to Closure," arguably the strongest track on the album, opens the CD with power-driven guitars and rich vocals, holding the most instrumental and vocal diversity. It's a song dealing with the need to burn old ties to relationships that can only bring harm: "I can see the fire in your eyes / Time is running out / You better turn, you better turn and walk away." After this track, the remaining nine songs blend into each other with little variation. "The Damage" opens with a rupturing drumbeat similar in sound to Bleach and explodes with guitars expected at Kutless concerts. "Running" showcases a nice fade-in and soft vocals, and "Tonight, Tonight" offers a mellower beginning with a differing rhythmic pattern, yet both songs return to the familiar hard-driving vocals and guitars rather than following the diversity set-up in the first few seconds. "Break Them Down" offers a momentary shift from Chavez's falsetto to a deeper, more solid pitch, but this change does not last.
The lyrics, however, manage to enter new realms of imagery. "Running" says, "Travel a mile to capture a crown only to hide / I can see your eyes deceive what you think you know to believe." "Tonight, Tonight" speaks of capturing a moment and wanting to hold it for eternity: "I wish the blood red moon would have lingered / A moment in your hand a picture in your head / Even if these scars don't mend / Black trees covered by a crimson grace." The most delicate song is "Lights and Jewels," a chronicle of a friend's passing. With lyrical composition similar in beauty to Copeland, Chavez sings, "Hospital beds come too quickly these days / I saw her just lay there fighting for her last look at love / Death came like a thief to break her free / And carry her to life / It stole her from all that she loved / And saved her from what could have come / I know she saw a door standing open / With lights and jewels and fields forever / Let her braid a flower in her hair." The passion generated from her passing (showcased by this song's high-pitched guitars) has been heard in earlier tracks, so the desired effect might be lost on the listeners.
Of course, since we are creatures of habit, we build upon the preceding music movements. Such is the case with Mourning September. They've taken the sounds currently being produced and have added their voice to the discourse at hand. Fully enjoying this project depends on whether one likes repetitiveness. If one can't get enough of this sound, and if lyrical richness is a high priority, then A Man Can Change His Stars should be added to the ever-growing collection of new music.