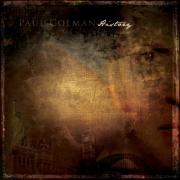 The world of music boasts no shortage of artists who cut their teeth within the friendly confines of the duo or full-band setting before venturing out to try their hand in the solo arena (think Justin Timberlake, Eric Clapton and Dolly Parton). Conversely, any number of performers have chosen the opposite route and traded in their lives as solo stars for a taste of the group-based life (think Michael English's tenure with the Gaither Vocal Band or David Bowie's stint in the relatively short-lived Tin Machine). And then, of course, there are singers and musicians who, for any number of reasons, seem to shuffle between the two settings with alarming regularity (David Lee Roth, you know who you are).  
Much like the ever-gregarious Van Halen front man, former Newsboys guitarist Paul Colman has shuffled more than a few times between his singular and band-based endeavors. Focusing mainly on the years between 2002 and the present, the History anthology chronicles the songwriter/guitarist's ever-dynamic musical trajectory via a 13-track assortment of radio singles, album cuts, rerecorded fan favorites and cover tunes. The latter two categories, as it turns out, are mostly hit and miss. Colman's version of Larry Norman's "Sweet, Sweet Song of Salvation" retrofits the venerable classic with thoroughly contemporary accouterments without forfeiting any of its innocent jubilation. The transplanted Aussie offers a likewise appealing folk-tinged take on country singer, Toby Keith's, "If I Was Jesus." On the other hand, though, while remakes of Delirious' "History Maker" and Colman's own tunes, "All U Need" and "The Killing Tree," are certainly fair enough in their own right, they nonetheless sound far too similar to the original versions to be considered even marginally essential. 
The eight tracks that are left, though, weigh in with much more consistently impressive results. Most listeners will already be well acquainted with the Paul Colman Trio's "Turn" and "Run," each of which rightfully earned the pole position on the CHR charts and both of which showcase Colman's seemingly effortless mastery of dynamic, hook-filled tunes. The likewise familiar Top 5 single, "Fill My Cup," proves him to be an equally skilled craftsman of the winsome, sun-drenched sing-along. The remaining album-based entries, while not quite as instantly memorable as their charting cousins, still serve to highlight the breadth of Colman's talent as he turns out ingratiatingly catchy U2-styled arena rock ("Gloria"), lilting folk-pop ("The One Thing") and sparkling adult contemporary fare ("I Owe It All"). 
Interestingly enough, despite Colman's having over fifteen releases under his belt, nearly all of the self-penned tunes on History are taken from the New Map of the World and Let It Go projects. This may be due to the fact that these were Colman's first internationally-distributed group and solo efforts, respectively, but it still makes for a somewhat skewed portrait of his back catalog. Similarly, the decision to fill nearly a quarter of the album with cover versions is a bit puzzling. Those merely looking for a balanced overview of Colman's career would probably have opted for their deletion in favor of more material from his previous records. And longtime devotees, while no doubt thrilled at the inclusion of previously-unavailable cuts, would be better served picking up these three covers, along with two others, on the just-released If I Was Jesus EP.  
Arguments about which songs should or shouldn't have been included aside, the History compilation itself is, with only one or two exceptions, an exceptionally solid affair from start to finish. And its individual tracks, regardless of their particular album of origin, still lock together nicely to form a tight and cohesive whole. Colman has never shied away from the big hook or sweeping lyric, so those who are less than bowled over by his previous work probably won't be brought into the fold by the best-of effort. Listeners willing to forego the musical dissection, on the other hand, will be amply rewarded by simply taking the new record for what it is – an appealing array of heartfelt, well-crafted compositions. Neither exhaustive nor even, arguably, representative, History is still as good an introduction as any to Colman's refreshingly energetic and uplifting brand of music.