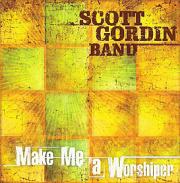 Making the decision to form a power trio can prove to be a risky undertaking. To be sure, without the aid of one or more additional musicians to fill in the gaps created by the typical guitar/bass/drums arrangement, the songs of the average musical threesome are mostly left to stand or fall on their own intrinsic merit. The good news for Scott Gordin and his fellow Southern California-based bandmates, Jesse Manzano and Chip Gumienny, is that the compositions on their debut effort, Make Me a Worshiper, fit squarely into the former category.
With a melody as smooth as olive oil and hooks big enough for a winter coat, the infectious folk-pop-inclined opening track, "I Stand Amazed," is the sort of song you hear once and wind up humming for a week. The likewise appealing cover of Tommy Walker's now-ubiquitous modern worship standard, "He Knows My Name," is held beautifully aloft by its shimmering flute and acoustic guitar work. "Calling Jesus," by comparison, foregoes the bluesy hues of the Chris Falson-penned original in favor of a sleek jazz-tinged vibe and call-and-response approach that lends it an ever-so-slight black gospel feel. And the lilting tune and breezy, carefree delivery of "Love Song" make the impressive cut a worthy candidate to the contemporary soft rock canon.
The album's refreshingly minimalist production aesthetic is nicely complemented by its lyrics, which are fittingly clear-cut and direct. The parallel phrasing of the title track (Make me a worshiper of you, my Jesus/ Make me a worshiper of you, my King/ To you I lift my heart/ My everything) works nicely to underscore the song's catchy, `80s-inspired power pop groove. "Without Love" (We can speak in tongues of angels/ For all man to see/ We can labor endlessly/ What good would it be) reaches back a bit farther to the early days of the Jesus movement, when artists set closely-quoted sections of scripture (in this case, 1 Corinthians 13) directly to music. And the superb album closer, "Wash the Feet" (There are many things I'll say/ When I see him face to face/ On that day), perfectly bookends the rousing enthusiasm of "I Stand Amazed" with a correspondingly stirring sense of worshipful expectation.
In fairness, some listeners may raise the proverbial eyebrow at the album's unrelentingly laid-back leanings. That said, part of Worshiper's very appeal is its endearingly loose, off the cuff feel, which makes it sound as if you've stepped into the living room of a group of close friends jamming together. Indeed, it is this undergirding lightheartedness, together with Gordin's warm, distinctive voice– which falls somewhere between Gordon Lightfoot, Elvis Costello and Adam Duritz of Counting Crows – that ultimately lends the record its pleasing sense of continuity. Metal lovers and members of the alt-rock crowd will likely wind up taking a rain check on the Worshiper record. Those who prefer their music being delivered at a less-than-frantic pace, though, will surely be able to appreciate the album for what it is: a solid, delightfully subtle effort that superbly captures both the reverent spirit and underlying talent of its authors.