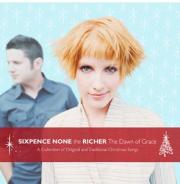 For many a member of the Christian alt-pop camp, February 26, 2004, will forever remain, to quote FDR's famous 1941 war address, a date which will live in infamy. It was on that day that Matt Slocum sent an open letter to CCM Magazine informing the music world at large that Sixpence None the Richer, the group for which he had served as lead guitarist and songwriter for over a decade, would be no more. But even as fans of the band who opened the pages of the March issue of CCM, where the letter appeared, sat in stunned silence at Slocum's announcement, they simultaneously took solace in the wording of his parting note, "goodbye ... for now," hoping that the decision to cease recording with SNTR vocalist and co-founder Leigh Nash would turn out to be temporary rather than permanent. 
By this point, all but the most cloistered of Sixpence devotees realize that their prayers have, at long last, been answered. Those looking for proof that the years since the duo's last full-length outing, 2002's Divine Discontent, have done nothing to dim their artistic prowess need look no further than the new album's triumphant opening track, "Angels We Have Heard on High," which marries Nash's wispy, ethereal voice to Slocum's shimmering, understated fretwork in letter-perfect fashion. Likewise daunting are "Silent Night" (a duet with Dan Haseltine of Jars of Clay) and "O Come, O Come Emmanuel," whose appealing folk-meets-modern-rock textures and faithfulness to the source melodies call to mind the critically-hailed City on a Hill worship releases. Perhaps most impressive, though, is the whirling, almost hypnotic, "Carol of the Bells," which flawlessly captures the mesmerizing awe of the original composition. 
While the familiar traditional carols are delivered with a majestic and sublime reverence that places them among the pair's most memorable compositions to date, the remaining cuts are far more hit-and-miss. "Last Christmas" (written by Slocum for the birth of his first daughter) is a first-rate example of elegantly-constructed minimalism. "Riu, Riu, Chiu," is likewise refreshingly unassuming, even if its Spanish-language description of Christ's birth and death will ultimately be lost on most of those who hear it. The jaunty, romantically-inclined "Christmas for Two" and "Christmas Island," though, while far from bad, fit in jarringly at best alongside the more somber (and, truth be told, better) religious-themed entries. And Nash's intermittently awkward vocal execution on "River" only widens the gap between her version and the far-superior Joni Mitchell original. 
Of course, any discussion regarding relative song quality is rendered largely moot by the fact that most listeners familiar with the Sixpence collective will purchase Grace by default simply because they admire its creators. That being said, those who were put off by the group's harder-rocking, more alternatively-flavored material may want to think twice before they pass on the record, given its relatively kinder, gentler character. And even listeners who have yet to fall under the band's seemingly irresistible spell would have to admit that, with the exceptions noted above, Slocum and Nash's latest effort stands head and shoulders above the average Christmas release in terms of composition, arrangement and respect for the material covered. Admittedly not as essential as Discontent or the self-titled project, The Dawn of Grace nevertheless functions as a fine album in its own right and, even more importantly, offers a long-awaited reintroduction to one of pop music's most uniquely gifted musical ensembles.