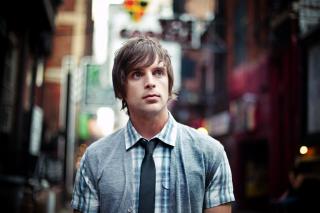 Alright, close your eyes for a second. Imagine a hot summer day, surrounded by thousands of other sweaty, worn-out teen and college-age concertgoers. A guy sporting a slick hat steps up to the stage and begins to swoon the audience with a song that brings John Mayer to mind. He then  stands up, moves his wooden stool out of the way and somehow easily transitions into a hip hop track, jumping and bouncing all over the stage. Who else could do this, but Gotee's fairly new artist, B-Reith.
Born Brian Reith, he grew up around music, and always had a knack for singing since he was very young. "I started rapping in middle school for some odd reason," he recalls. It wasn't until his last year of college though, that he decided that music could and probably should be his career. "In my last year of college I realized I wasn't as passionate or as good at anything else. So I started when I was a kid, but it didn't really get launched until I was out of college seven years ago." 
After having lived in Nashville for a while, his friend, who happened to be on rather good terms with Toby Mac, sent him over a copy of B-Reith's recordings. "The story is that tobyMac pulled [his car] over to the side of the road to really listen because it was just so different," Brian recalls. "So we met up, and because of Toby's heart and because of Gotee as a label and the freedom that they give me, I ended up signing."
In May 2008, Brian released The Forecast EP to the delight of fans all over the country. He introduced them to his smooth vocals over guitar, and ridiculously fun and catchy raps. Which one does he prefer to do? "I think some people prefer the singing over the rapping but I always thought that when I get the opportunity to rap it's a break from the singing," says Brian. "I like to tell stories and I can tell them through hip hop and rap. I like singing a little bit more, but the songs that are the most fun are the rap songs. It's weird. I'll probably try to do both for as long as I can until I have to stop or give it up."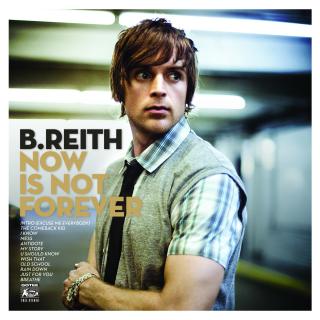 His newest album, Now Is Not Forever, will hit shelves and online outlets on September 22nd. You can expect a tad bit more singing than rapping on this one, though. "I'm excited and nervous at the same time about what people will think!" Brian revealed.  
With songs about girls, to ideas relating to Jesus, B-Reith is all over the board when it comes to lyrical content, in hopes to connect with listeners. "I know stylistically that I'm a little more mainstream in my thinking. I love to connect with people and would love to reach a mainstream audience for sure. Essentially though, the door has to open. You can try to kick down that door but really, something has to click. Well hey," he said as he paused for a moment during our interview. "If you can make that happen…"
But until "that" happens, be sure to check out B-Reith in the variety of upcoming shows and festivals posted on his website and MySpace page. Especially take note of his appearances on the Creation Fest and Winter Wonder Slam Tours!