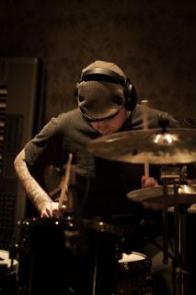 Plot the trajectory of Ethan Luck's career on a graph, and the image would be odd. Unconventional, to say the least, and not because it would convey an unusual number of peaks and valleys. If anything, first glance leaves the impression Luck has travelled from one peak to another, to another. From one popular rock band to another popular rock band, to a third.
Perhaps this is deceiving, because nobody finds success without hardship, but it is the idea that a first glance will leave. Include the names of his bands on your graph, add a sound clip or two, and then the weirdness becomes apparent. Success is certainly not foreign to Ethan Luck, and neither is diversity.
***
The biography at ethanluck.com tells you he was born in Long Beach, California, in 1978 and began playing music ten years later. His father taught him guitar and he later picked up drums, bass and lap steel. Luck played in bands during junior high, then joined a group called Saved midway through high school. The lads from Saved changed their name to The Supertones and eventually became Christian rock superstars.
"He played with them in and around Orange County, CA for 2 years," the bio tells you, "and later rejoined in 2000." By then, The Supertones were one of the best-known bands in the Christian market. They played a variety of types of music but were earmarked as one of the market's first (and most) successful ska acts. At times they delved into "harder rock," and then into pop/rock, but when it was all over they were legends. Luck was a guitarist then, and he was living up to his name.
***
In 2005 the 'tones laid themselves to rest, and Luck needed a new gig. As a former guitarist for the most popular Christian ska group in history, his next move was obvious: he would join Demon Hunter, which was then one of the hottest heavy metal bands anywhere. DH released Triptych in '05, its third album and the one that debuted Luck on lead guitar. Roughly a year later Ryan Clark, the band's vocalist, appeared on the cover of Revolver magazine. In a way, this amounts to finding oneself atop the metal world, and Ethan Luck was along for the ride.
***
Two days before Valentine's Day in 2008, a punk-turned-pop/punk-turned-mod-rock outfit named Relient K posted an update on its official website. "Some of you may have noticed a few new shows have been posted," the update stated. "We're going to do a little run of shows in March to help break Ethan Luck in on the drums. We held a few auditions last week, and all of us feel like Ethan will be perfect for the gig. Come to a show and judge for yourself...."
And so the world learned that Ethan, perhaps the luckiest man in all of faith-inspired music, had made it to Peak Number Three. As a drummer. In a band whose sound is miles away from that of Demon Hunter, and decidedly bereft of ska. The cherry atop the sundae is this: Relient K is nearly as important to its genre as Demon Hunter is to spiritual metal, and The Supertones were to spiritual modern rock in its day.
The math that brought him here is difficult to comprehend and the graph not easy to plot: eight years, several instruments, innumerable sounds and three iconic bands. The image produced is odd - unconventional, to say the least - and now you understand why.
Chances are, you still don't understand Ethan Luck, though. Or how he managed to accomplish all of this. I sure don't. Maybe no one does.