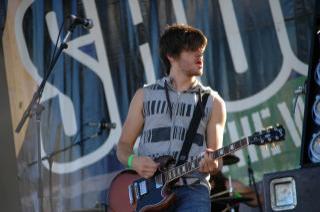 With the myriad of press and artists floating around at GMA week each year, a pre-scheduled interview is often delayed or rescheduled.  Sometimes it does not take place at all.  When I arrived for an interview with Nevertheless, it turned out that another interview had been scheduled with them at the same time.  Yet they graciously took a few minutes out of their lunch to answer a few questions in anticipation of a yet-to-be-titled sophomore release.  It was a short interview, but packed with a punch.  Read on.
Nevertheless
GMA Week April 2008
Nashville, TN
Josh Pearson - lead vocals, guitar
AJ Cheek - lead guitar, background vocals, piano
Brad Jones - guitar, background vocals
Adam Wann - bass
Adam Rowe – drums
inReview:  Well, you are here at GMA week.  You are working on a new album so I am sure you want to talk about that.  How is that coming along?
Josh:  Yeah we actually just finished our album – at least the recording part – last week and it is being mixed right now.  The record is due to come out September 16th.  We had a lot of fun in the studio.  We worked with a producer named Rob Hawkins here in Nashville which was a little different this time around for us. 
inReview: Is there an overall theme of the album or something that puts it all together?
AJ: The more we look at the songs after they were recorded, there is definitely a theme of restoration, actually.  Man it is just pretty much a living testimony of a lot of stuff we have gone through over the past year and a half of touring of the first record.  A lot of it is just pouring out experiences and stories.  A lot of it is definitely stories.  Like Josh speaks on stage a lot more and he'll tell stories in between songs to set up songs.  It is pretty cool.  We feel like we can relate to it even more than the first time around because it is stuff that is close to us – close to home.
inReview:  This is a question I often ask.  Are you afraid of the sophomore slump?
Josh: I don't know if we can say we are afraid of the sophomore slump.  But making a second album is definitely more intimidating than making the first one.  And the reason is [because] on the first record, we have all of our lives to write songs, since we have been songwriters.  And also everyone is really excited.  You just got a record deal.  You are putting out your first record.  And if you get any success at all, it is appreciated.  The second time, I think people really want to perform again.  And [record] labels want you to perform better than you did the first time.  Also with us, stylistically we progressed a little bit and hopefully the fans will come with us.  I am sure they will.  It is not too much of a step away from the old stuff.  But our hope is just that the fans will walk with us in a new direction.
inReview: So when you say it progressed, what do you mean?
AJ:  We actually added a new instrument – piano.  So a lot of the tracks are pretty piano-based, a prominent instrument.  And I play that live.  It is definitely a progression live that you can tell there is that different element.  And we added strings, actually.  I know a lot of records have strings.  We are pretty excited about it.  It has been one of our dreams.  There are three or four tracks with fourteen stacked violins and stuff.  It is pretty huge.
inReview: Is there a reason to add these additional instruments to the music?
Josh: I think these are elements of music that were always inside of us that just were not manifested in the first record.  I know we have been passionate about having strings on a record even before we signed a record deal.  We said we want to have an orchestra or at least a quartet play on our record.  So it happened this time.  And then AJ taught himself piano a few years ago.  Last time it was kind of more just write some songs, rock out a little bit, and do your thing.  This time around I think it was a little bit more thoughtful process and more intentional.
AJ:  And even lyrically, Josh writes ninety-nine percent of the lyrics.  But I feel like we progressed in that way [as well].  As opposed to the first time, we kind of took songs and we would write with the thought of taking ideas.  "What about this idea?  What about this concept?"  Now it was more of just an outpour of what has actually happened and what we can really tap into that we can personally relate to and transition that into a song that can actually speak to somebody.  Hopefully the goal is they come after the show at the table and say, "Hey you know, that was me.  I struggle with that.  I went through that same exact thing."  We have actually seen that already quite a bit after playing a few of the new songs live after a couple of weeks.
inReview:  You have spoken about the upcoming album, how about being on the road?  Tell us something you like and something you don't like about being on tour.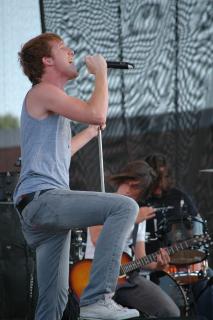 Brad: As far as being out on the road, it is probably one of the most fun things we can ever do.  It is just absolutely a blessing to be able to get to do it and see all the different places and just travel with four of your best friends.  However, it gets really hard after you have been on the road for a month or two months.  I mean, you have family back home.  In our case, we have fiancées and wives and girlfriends back at home.  So it gets tough and you miss them.  And you miss the fellowship you have with your friends and with your local church.  It is one of those things you have got to keep in touch with them as much as you can on the phone.  You know it is a blessing to be able to travel so you have to take the best of both and when you do go home just really make sure you put in the quality time with your family and friend.
inReview: [sarcastically] And here I thought road life was all so glorious.  I had no idea.
Laughter.
inReview: Our motto is, "A different approach to music."  How does Nevertheless fit into that motto?
Josh:  I think Nevertheless fits into that motto because I really think we have a different approach to music.  None of us are trained in music.  I know our biggest thing that we want to provide and the biggest thing that we enjoy is just bringing out emotion and bringing out connection through music.  And a lot of radio stuff that you hear is almost like it was made in a factory.  Like a Barbie doll or something.  [Our music] is not.  It is something that started very very real to us and something that we want to make very very real to the listener.  So that is our approach.