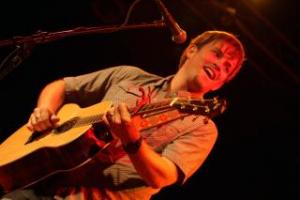 Dave Barnes is fascinated by my phone. It's tiny and red and looks very much like some type of voice recorder, and when I tell him it's really a phone, he exclaims that it's the coolest thing he's ever seen. He's also impressed with my new Canon L-series lens…not necessarily because he knows what it is in terms of luxury lenses, but because it's big and weighty and in his estimation could probably spot Jen (Anniston) and John (Mayer) in LA from where we sit on the other side of the country. We are sitting at an outdoor picnic table underneath the main deck of the Windjammer in Isle of Palms, SC. Barnes is sharing the stage with Matt Wertz at the Windjammer later in the evening. As we sit together, I couldn't be more relaxed mainly because Barnes's initial fascination with my gadgets is just indicative of who he is. Barnes is a very warm, enthusiastic person who immediately makes me feel as if I were hanging out with a friend rather than getting an interview with one of the most impressive acoustic singer/songwriters on the scene right now.
There's a hint of laughter in Barnes's voice and a definite mischievousness to his grin, and I learn very quickly that humor is large part of his personality. His misunderstanding of a statement I make early in our conversation becomes the fuel for a joke, but instead of feeling awkward about the exchange, I'm caught up in Barnes's perspective of the moment and laugh along with him. In addition to being a gifted musician, Barnes is a gifted comedian who's already had one successful stand up show in Nashville and has booked another for this summer. But music is Barnes's career, and I sit with him today in order to dig into his music and his songwriting and to learn more about what moves Barnes as a musician and as a person.
My confession upfront to Barnes is that I have been a fan for a sum total of one week. Truthfully, I heard two of his songs and downloaded his entire collection on the spot. But I have a feeling I'm not the only person who has ever done that because Barnes has an impressive catalogue of songs that range in style from the more pop sounds of "Until You" to a solid reggae march called "Miles to Go". His songs also incorporate the elements of blues, soul and funk and are sung with his soulful tenor voice in a way that's highly engaging. And what really sold me was not just the musical integrity (it's there, trust me) but also the depth of lyrical content and quality. Add to that the fact that Barnes's a socially conscious guy who is one of the original spokespeople for The Mocha Club and the combination is irresistible. I asked Barnes to tell me about the conception and birth of Mocha Club and what inspired the song "10,000 Children", a moving track on his latest album Me and You and the World.
"The Mocha Club started three summers ago when (Matt) Wertz and I went on a trip together to Africa. We'd never been, and our friend who put it together is one of our best friends in the world. He's since moved to Ethiopia, but at the time he just kind of wanted us to see…he called it a Vision trip, a chance to get over there and check out Africa. And Mocha Club hadn't been activated yet. After that trip it sort of came into fruition, and having seen what we had seen, it was a pretty easy pitch for us. He was like 'This is kind of my vision for it. I'd like for you two to be the first two people to do stuff with it.'" I interject that it must have been a huge honor for Barnes, and he agreed. "I have a feeling that I might not be known so much for my music as people saying 'He's one of the first guys who told me about Mocha Club.' I think it's really going to take off."
Barnes goes on to explain that Mocha Club is set up like MySpace and Facebook, and once you join you can invite your friends to join with you become involved in doing projects like building water wells in Sudan, bringing relief to AIDS orphans, and boosting the educational system throughout Africa. "It's sort of like Habitat for Humanity without building anything with your hands. It's called the Mocha Club because it's $7 a month, about the same cost as two Mochas." Barnes himself has been involved in projects that include building water wells and a medical clinic in the Sudan.
For me at least, it seemed there had to be a connection between Mocha Club and the song "10,000 Children". Barnes confirmed my suspicions. "10,000 Children is such an honest outpouring of my thoughts about Mocha Club. It's been really funny, though. That's probably been the song that of anything I've written I've been most proud of, but it's also the song of course, that's gotten the least amount of attention. I feel like it's one of those few songs that represent exactly how I feel about something. When I wrote it, I knew that not everyone would get into it, but the people who do will really, really get it".
During every one of Barnes's shows, he stops mid-way through the set to tell about The Mocha Club and to explain that people can join at the merch table or later online if they want to. Barnes hits a lot of bars and clubs where the priority of the night for concert attendees may not necessarily be finding ways to help AIDS orphans in Africa, but in spite of that, people listen when he talks. And many in Barnes's audience do join up the night of the show. For Barnes, why people join isn't nearly as important as getting them to join. In his words, "priority one for me is let's do the right thing and hope that works retrospectively" in the lives of members so that they realize they are part of a bigger picture.
Mocha Club's spokesperson has a platform because his music has built one, something Barnes says gives his music purpose. "If we're really honest about it, I think we all (performers), whether we want to admit it or not, know there's a real non-satisfying thing about getting all that attention, So I think it's really cool when you get to do something and can say 'now this really matters'. Like I'm seeing my music and what I do with my life physically affect other people for good"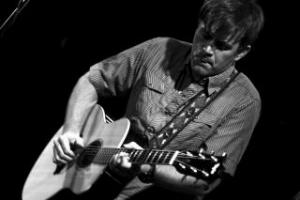 It's probably safe to assume that Barnes's philanthropic activity can be tied to his Christian faith, but he's never wanted his music to carry the title of Christian Music. It was clear to Barnes early in his career that he needed to avoid a label of any sort, including one that would rope him into the Contemporary Christian Music industry. "I never started in the Christian world, but I don't get flak for that. If you leave yourself to be interpreted, everybody's fine. But the minute you stick any moniker on yourself, then you can be defined, then therefore you can be juxtaposed. The secular media saw that this is a guy tends to play some Christian events and churches. For me the ones that I play make sense with what I believe. And vice versa, the Christians have seen that, 'wow, he plays in a lot of clubs and bars and plays with a lot of people who aren't in the Christian world'. There's no real thing either can hang on me, and as an artist that's exactly where I want to be." While Barnes walks a careful line between mainstream and Christian music, he does so without compromising what he believes in. One listen to such songs as "Grace's Amazing Hands" and "Believe" and it's abundantly clear where his life perspective is rooted.
Those songs convey a passion for his faith, but it's obvious that Barnes also has a passion for many things, including the workmanship of a variety of musicians. We talk for quite some time about other artists and the impact his musical heroes have had on him. I ask Barnes what music affects him the most, and his lengthy answer gives solid proof that he is a music enthusiast who willingly tips his hat to the artistry of such greats as Michael Jackson, Bonnie Raitt, Stevie Wonder, and Sir Elton John. As for inspiration, Barnes says "It's all different. I tried to pinpoint at one time in my life 'why do things inspire me the way they inspire me' and I realized as much as things inspire me to be thoughtful there are a lot of things that inspire me to dance or laugh or goof off.'
The attraction to all things inspiring is what got Barnes into the music business to begin with. "I never got into music because I wanted to be playing in front of tons of people. I really got into music because I wondered if I could create music that affects me the way music I listen to affects me" Barnes is humble enough to admit that earning peer respect is huge for him. "For me success monetarily and crowd wise is more of a bonus. A lot of what I do, whether I know it or not, is I like to know that what I'm doing is being respected by the people I respect"
That respect has been earned by the likes of Amy Grant and Vince Gill (who both appear on Chasing Mississippi) and another contemporary singer songwriter John Mayer. Of Mayer, Barnes says he believes that "he has a lot going on upstairs. I know that he gives thought to what he says, especially publicly, so for me to be one of the people he's kind of said 'I'm proud of saying that I like this' that's a pretty massive statement. It's hugely encouraging. At times it can be overwhelming. As I write songs, if I'm not careful I can get real nervous like, gah, what if this is the record he (Mayer) hears and he's like, yeah, I'm done with that."
That may be a little more pressure than the average song writer might feel, but Barnes isn't average, and he hangs out with an above-average song writing crowd that includes Matt Wertz, Mat Kearney, and Ryan Tedder (of One Republic). Songwriting, he says, is by far the thing he's most passionate about and he says he has a lot to learn, especially from the great songwriters of 30 years before. " A lot of the greats from the 70's like Billy Joel, Paul Simon, and Steely Dan, you name half the people that were around then and I'd love to write with them. If nothing else I'd love to hear them talk something through. I've been trying to write for the first time in a long time and I can feel myself thinking "is this big enough, are there enough hooks in the song, is this digestible?" and it's been one of the bigger struggles in a long time that I've had. I'm kind of like, gah, I'm buying this, I'm drinking the Kool-aid on this. Literally the way that I'm sort of trying to remedy it is to get back to songs that inspire me and try to camp out there as opposed to listening too much to what's happening now."
What's happening now in the music industry may favor the quick payoff hooks over the more slow-cooked type of song writing depth Barnes gravitates towards, but fortunately for Dave Barnes "People haven't changed. You can still, in my opinion, have a group of 50 people and stick them in a room, and you play a really great song, they're all going to think 'this is a really great song' So to me it's a little more about, are we writing good songs? Is that even being done as much? And I'm not sure that it is." But, Barnes has a commitment to that "old school thought pattern. I'm going to really try to write songs that move me and stay away from what I feel like are patterns or rules." He attributes his longevity in this industry, even through years of being an unsigned artist, to that very ideal. It may have been this throwback style of writing that attracted his label, Razor and Tie, to Barnes in the first place.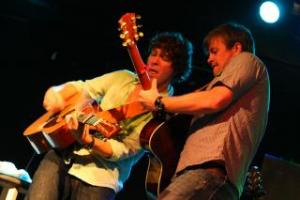 Thankfully for his fans and for Barnes as well, Razor and Tie has done nothing to change his approach to music. But there has been a transition. "You go from being the guy that nobody knows about to it's the label's job to make you the guy that everybody knows about. It can be hard, because labels work on level 12, and I'm used to working on like level 6. It's hard to ramp up to that in some ways I think, especially being older. It can be taxing, but it's a very benefiting taxing. The time that you spend doing stuff really tends to pay off. I've really enjoyed it. It's a different pace and a different mind set, but it's been really great. You've got to do it. If you really want to do music for a living and have some success on a bigger stage (not to be punny) you've got to up your game."
It's obvious that Barnes is sold on his career choice, something he says seemed to come about by "a lot of responding to what seemed to be initiated by other things" and that he is ready for the next phase of his career, but he's quick to say that he's so happy with what he's done. "If one more person didn't buy a record, I'd feel like I'd had an incredible run at this." We talk about what it means to live in that moment of gratitude and Barnes admits to something not many artists would admit to, that being a sense of anxiety about actual airtime. But this isn't a place Barnes wants to live, especially when he's got a huge summer coming up. He'll hit the stage several times over with blues standout Jonny Lang, share a show with Taylor Swift, and open one date for Bonnie Raitt. The Raitt show is the one that Barnes says still feels surreal to talk about. As friends and fans ask him about his summer, he mentions the opener for Raitt to them and, he tells me with a laugh, "Every time it comes out of my mouth I think, this is it. Like after this, I put the guitar up. It's been a good time."
Raitt happens to be on Barnes's short list of acts he'd love to tour with, so yeah…how can one top that? But my money is saying that yes, he'll top that. And it's not going to take very long for it to happen because Dave Barnes is a tremendously appealing person, not only as a musician but also as a human being. I've just spent nearly an hour talking and laughing with him, and enjoying his passion for music. Our interview sounds more like a conversation between music geeks than an interview, and that's to Barnes's credit. Barnes is a smart guy who uses words like "volition," "appropriate" and "philanthropic", but there's nothing off-putting or aloof about him. Maybe part of his appeal, aside from his tremendous talent, is the natural affability and genuine spirit he exudes. Add that to the honesty of Barnes's voice and his all-American good looks, and it makes sense that people are immediately drawn in to experience the lyrical mastery and passionate delivery of the songs he's created. As we part ways, I realize we've covered a tremendous amount of ground, but there are still questions to ask about Barnes' journey. A year or so from now I hope to catch up with Dave Barnes and find out exactly where the road has taken him. My money says he's going to go further than he ever dreamed.
Random facts about Dave Barnes-
Dream Job: Voice over work for a character in an animated Disney musical
Favorite Disney Movie: The Emperor's New Groove
Close friends and colleagues: Matt Wertz, Mat Kearney, Gabe Dixon, and Marc Broussard
As a child: Was the "family idiot" who made everyone laugh but couldn't carry a tune in a bucket (yeah, right, Barnes!)
Vocalists he prefers: The ones that aren't perfect but whose deliveries are believable
Dream touring partner: Stevie Wonder
Albums he loves: Marc Cohn's The Rainy Season; Tommy Sims' Peace and Love