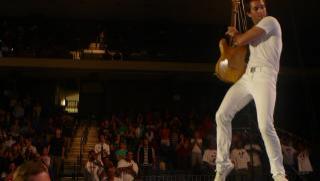 I heard Bono proclaim that, "I don't believe that Rock-n-Roll can really change the world."  The Music Builds Tour rolled across America this year in hopes that Rock-n-Roll could really change one person, one place at a time. Hoping that if they can draw attention to cause of Habitat for Humanity, then maybe they can raise the level of awareness needed to make a difference in someone's life.  And that my friends would begin to change the world.
This tour featured 3 Redlight managed bands: Third Day, Switchfoot, and Robert Randolph and the Family Band, along with the independent Jars of Clay and RED (on select dates).
I recently sat down with Jars of Clay to discuss their involvement in the Music Builds Tour.  What I found was not what I expected.  Who knew that Jars of Clay were such funny guys?  When asked, "How did you guys get involved with this tour?" Matt Odmark chimes in with, "Strategery."
"We're not even sure if we're really on the tour" adds Stephen Mason.  Laughter is the main recording of this whole interview.  
When this tour was first announced, and the details began to become hot topics on the various message boards and forums for the bands, there was a cry of outrageous ticket prices, with a minimal amount donated back to Habitat for Humanity.   Dan Haseltine from Jars of Clay offered a very eloquent rebuttal on the Jars of Clay message boards. "I suppose the point is not that $1 per ticket is the end of the giving opportunities for Habitat during the tour, it is just one of the ways Habitat will raise funds. A tour like this has layers, just as most do. The tour is very high profile, so that will give Habitat a bit of exposure. It is also just a great line-up."
inReview: I read on your blog that your in the studio working on a new CD.  Do you have a release date for that?
Charlie Lowell: We have an EP called Closer.
inReview: Closer to being done with the CD?
Charlie: Closer than a couple of months ago!
Matt Odmark: For the [full-length album] we're probably looking at March of '09.  But the EP is going to have a few sneak peaks on it.  You'll also be able to digitally get the EP.  So it will only be available on the tour or digitally online.  So those not lucky enough to make it out the them Music Builds [Tour] you can still pick it up on iTunes or wherever you go.
inReview.net: By now Jars of Clay has pretty much toured America .  Is there any city that you're excited about playing again, or excited about going back to?
Stephen Mason: Chicago.
Matt: Des Moines.
Charlie: We're not in Des Moines! Oklahoma City, guys!
inReview.net: Oklahoma City was on my list until the dates changed.  Now I'm just doing the Texas Trio.
Charlie: Fair enough.
inReview.net: Being a recent Houston transplant, I was hoping that Texas would have been one of the "favorite" hot spots.
Stephen: Well we love our Texas.  We love our Texas food.  We love our Texas people.  We love our Walker Texas Ranger. (Laugher rolls again like thunder.) We didn't realize how many warehouses with empty boxes there were in Texas!
Charlie: That he can just run in and blow up.
Matt: Nare-do-wellers living there.
Charlie: Shenanigans!
More laughter rolls out of the tent holding the interview.  The tour manager is now popping over to see what is going on in this interview.  Sanity has been misplaced, replaced by sheer humor accompanied with laughter.  Sensing a loss of control over the interview process, I asked one last question:
inReview: Have you ever sat in these interviews and wished that [the interviewer] would ask you a particular question and they never do?  If so what would that question be?
Stephen: No, I'm usually up for whatever you find interesting. Then I try to bend that toward what I'm interested in!
Matt: There's the trick.
Charlie: The secret of the interviewee.
Matt: I've sat in some interviews and wished someone would say, hey man you need $20? (Roar of laughter.)
So if you ever see Matt, ask him if he wants $20, or you can just donate it to Blood:Water Mission on behalf of Jars of Clay.
Jars previewed some of their new music from the EP CLOSER with good crowd response during the Music Builds Tour. You can pick up the new EP online from JarsofClay.com, or from iTunes.