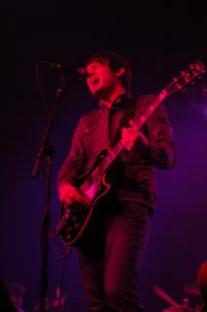 KOCH Records' Seattle-based alternative rock band and winner of the 2007 "MTV2 Dew Circuit Breakout," The Myriad, is scheduled to release their highly anticipated sophomore project With Arrows, With Poise on May 13, 2008. In anticipation of the release, we asked the guys some questions about the album, MTV, and touring. Step inside to read more.
Steven Tracy: guitars, keys, programming
inR: We last sat down together at the Purple Door festival in August of 2005. Give me a short summary of some things that have happened with The Myriad since then.
Steven: Well, that's a big window of time, and it's certainly been busy! With the exception of recording the album, we've been on the road. So nothing's really new there. Lots of miles, lots of interstate, and lots of clubs. Last year however was pretty special for us. We had a bit of a lineup change in who worked on the business stuff with us, so we felt this intense drive to write and record something really special. It was the first time in a while where it was really on our shoulders. We essentially locked ourselves up in the studio and just went out to make the record of our lives.
Everything familiar was out the window, so it was this intense, combustible shot at making something that we've never done. We just grabbed the test tubes, microscopes, and petri dishes and went for it. We didn't know who would be putting it out, or if we were even going to be able to go on as a band. With all those question marks, we collectively decided to make the record that we had to make; the record that had been burning inside of us for a while. It had to be great, and it had to be exciting and new. At the end of the day, we had to be able to lay our heads on our pillows and know we made the album that we had to make. A bajillion cups of coffee later and I think we nailed it.
inR: Tell us a bit about your experience playing live on MTV. What was your favorite part of the whole experience? What was your least favorite part?
Steven: Well, my favorite part and my least favorite part are the same. We were playing this live show, but MTV ended up pre-taping the first 15 minutes. The second half would be done live. We were standing in TRL studios waiting for the second half of the show and they were broadcasting the first half of the show on the huge TV in Times Square right outside the window! We just stood there watching ourselves on this ginormous television. I wasn't nervous until then, but after that.......well, I didn't have a prayer. 
inR: You have switched to a new record label for the release of With Arrows, With Poise. Describe at least one goal you hope to achieve by making the switch.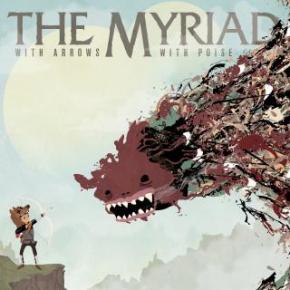 Steven: We've always been a band that's never satisfied. I have no doubt that the minute the album was finished, we're all brainstorming the next one and how we can keep growing as artists. All that to say.....we've got a lot of goals! One fun one that we got to see come to fruition last year was mixing the album in Berlin, Germany with Michael Ilbert. He had mixed a few albums that we loved, and he had recently relocated from Sweden to Berlin in the famous Hansa Studios. (U2, Bowie, Pixies, Depeche Mode).
Anyway, after we signed with Koch [Records], they flew us over there to mix with Michael. He was an amazing guy, and Berlin was absolutely buzzing! Wandering around this studio where some of my favorite albums were made was unreal. Then to top it off, we got to master over at Abbey Road [Studios] in London. There was the point where we were walking through the halls and you could hear this Beatles song humming through the door as they worked on a re-master or something......and then BAM! Here is this piano that they used for the Sgt. Peppers album..........I snuck in one chord and haven't washed my hands since.
Jeremy Edwardson: vocals. guitars. Programming
inR: Are you afraid of the often-dreaded sophomore slump? Why/why not?
Jeremy: Our first album was about as indie as indie gets. In order to have a sophomore slump, it seems you would have to have had wide success with your debut record...which we did not. There's really no chance of a 'sophomore slump' here. In a lot of ways, With Arrows, With Poise feels like our first record. We spent the greater part of the last three years figuring out exactly what kind of record we wanted to make and we made it. At this point we are just really excited. 
inR: What is different musically on With Arrows, With Poise than You Can't Trust a Ladder?
Jeremy: Our approach to With Arrows, With Poise made the album different from anything we had ever done. Throughout the process, we were very inspired by film makers like M. Night Shyamalan and sought out to write a collection of songs that moved like a movie; including conversations between characters, plot, twists, etc. The music was written like a score to a film, supporting the script in any way possible. Metaphors were used to explain ideas. Instead of saying, "let's have an intense drum beat with big guitars and a tight piano part," we would say, "this should sound like a WWII era army is marching over the top of a mountain cover in snow". We set the song writing bar really high and were determined to write a cohesive 'moment' rich with great lyrics, melodies, parts, and lots and lots of depth. We worked for a short time with producer Tim Patalan on pre-production and then we secluded ourselves in a studio in Northern California where the bulk of the album was created.  
inR: How was the writing and recording process the same or different?
Jeremy: Our first record was written with a shotgun. With Arrows, With Poise was written with a rifle...maybe even a sniper rifle. It was intentional, focused, poised, and accurate. There were no blurred lines in the band. Everyone knew exactly what needed to be done and what their part was in getting it done. We weren't bumping into each other wondering what the heck we were doing. We had gained confidence as individuals in the band and there grew a high respect and regard to each person's musical expertise. We had a lot of talks about the record long before we picked up the instruments. The album name came before a single song was penned. It takes a long time for a band to get there and through many conversations, sweat, blood, tears, and 3 long years on the road, we figured this out. It's not that the music, lyrics, parts, etc came any easier but there was an excitement and a belief in each person that led to the magic of this album.
John Roger Schofield: bass guitar 
inR: When you finished the album, what was the first song that you could not wait for people to hear? Why?
John: "Holiest of Thieves". I felt and still feel that this song is the furthest west we've gone over those them-thar splendid seas toward some ineffable light... In other words, this song is the furthest we've gone creatively. "Holiest of Thieves" feels like the new "new" to us. It feels crazy refreshing. It feels substantial and salient. I dig it, forsooth! Like Thelonius dug the ivories. However, I'm not sure our fans dig it quite yet. It's def not single fodder. I'm still waiting for that golden moment where somebody comes up to me and exuberantly exclaims: "Holiest of Thieves is my FAVOURITE SONG!" I will hug them like a grizzly bear at that very moment. A real, live grizzly bear. Alpine. Hirsute.
inR: What is your favorite place to play - large music festival, small club, somewhere in between? Why?
John: The Fillmore in San Francisco. Indeed. So much history. So many great bands have played there. From The Who all the way up to Radiohead. Not to mention: it was my fav place to see shows whilst in college. I saw Sigur Ros, Sixpence, The Crash Test Dummies, etc there. It's gorgeous. The chandeliers are lit by black light or something like that so that they glow an eeeeerie purple during shows. Green sometimes, too. So good. So juicy.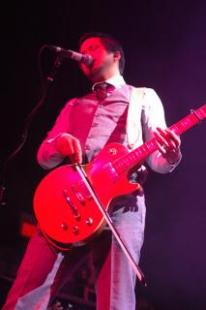 inR: What is the hardest part about touring?
John: It's 4am and we still have 400 miles to go... even though we've already tackled 400. Thank God for the invention of the mighty iPod. And coffee. And courage. And bravery. And little twain deer whistle thingies that affix to the bumper of Grace (our van) and keep suicidal deer from gracing our grill and rendering us into the grave. Being in a touring rock band means being a truck driver... and then being a retailer... trying to make ends meet at the merch. Exquisite candor. Oh, yeah... and then when you're completely drained (and perishing presently) it's time to put on a rock show and sweat like you mean it.
inR: What is the easiest part about touring?
John: Not punching a clock.