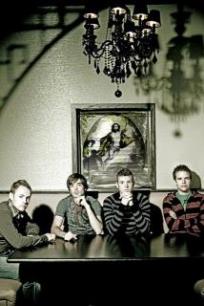 GMA week, held each April in Nashville, is a place to meet up with old friends, and meet some new ones. This year we decided to bring out our two-part New Artist Feature again. We met Article One who sat down for a few minutes between time in the studio and playing at an evening showcase.
Article One traversed across Canada for a couple of years. Soon they caught the ear of Inpop Records who released their sophomore album Colors and Sounds on May 27th, after their debut release in 2007. Hailing from Canada, the four guys that make up the band recently experienced a good part of the US by touring with the Newsboys this Spring.
Join with us as we got to know the band a bit better!
Article One
GMA Week April 2008
Dave De Smit: Drums
Mark Laidman: Bass
Matt Piche: Violin
Nathan Piche: Guitar and vocals 
inReview: How would you describe your music? What makes it different than other new artists out there?
Matt: The thing that makes our band different is that we have a violin. Yeah, we have a violin in our band. It is pretty pop-rock. But it rocks out pretty hard with a violin, which is quite unique.
inReview: Name three things you want people to know about you.
Nathan: The first thing that we want people to know about us is [that] we feel that by playing music we are serving God. And we are just passionate about what we do. We love what we do and we just love every opportunity we get to play for people. I think the second thing that is kind of cool is that we are from Canada and we are proud of that. And that is another thing that is kind of neat. We love getting to play down in the States because we get to sort of represent Canada. And I guess the third thing is that we love God. So, we love God, we love music, and we are from Canada. And we have a pop-rock sound.
inReview: [laughs] With a violin!
Nathan: Yes, with a violin. Can't say that enough!
inReview: You have been together as a band for a while. What made you decide to seek a record deal with bigger distribution rather than doing something on your own?
Nathan: Being from Canada, there are not a lot of people. So we would go coast to coast and play fifteen markets because that is about all there is. So when Inpop [Records] came along, and we had the opportunity to come down to the States, it was a huge blessing. Because there are just so many people down here. Inpop also has distribution with EMI/CMG which is an international distribution company. So it was just an opportunity to just play our music for more and more people.
inReview: Now is that something that you wanted from the start, or was it like, "Gee this is cool, a record label called us"?
Nathan: I think getting signed is always a huge dream for any artist. And it is one of those things that you don't know exactly how to get there or how do it. But you always dream about it. And we are just really fortunate that Inpop came along and we are really excited by it. It has been really great.
inReview: Describe your ideal fan.
Mark: We try and make our music a little bit different but we still try to keep it accessible to all markets. We try and keep it so teenagers, mid-twenty people, all the way up to soccer-moms can enjoy it. It is a family thing. We have people coming up to us at shows and saying, "Hey I can actually listen to this music with my kids and we both like it." So I think our ideal fan is pretty much anyone. We try and make our sound pretty accessible.
inReview: What album are you most looking forward to releasing this year and why?
Nathan: I am really excited about our record that is releasing on May 27th. It is called Colors and Sounds. And it has a violin. And it is very accessible pop-rock.
Matt: Actually we slaved over it for the last eight months and I am reallllly looking forward to getting it out. It has been a revolution for us.
Dave: I am also looking forward to our album. But I am also looking forward to the new Coldplay album. I am looking forward to seeing what kind of sounds they can come up with because they work with a lot of great producers. I'd say number one is still our album. That is going to be the highlight of the year for us.
Mark: Dave stole my answer. I think the new Coldplay album is going to be great. Our sound is somewhat similar to them and it is just interesting to see what other bands are doing.