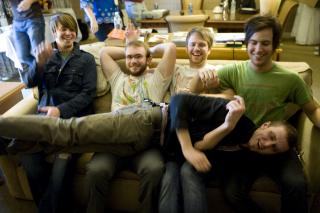 In Part 1 of our new artist feature this year, we hung out with Article One just before their sophomore release. In Part 2, we got to know an even newer band fresh off their national debut release. After Edmund hails from LaGrange, Georgia and the members are all musically trained. In fact, they all met while studying music in college. Playing together regionally since 2001, these five guys just released their debut national record Hello on Slanted Records in February. When we sat down with them, we met five goofy guys who also know how to be serious when necessary. Come join us as we get to know this band a bit better.
After Edmund
GMA Week April 2008
Nashville, TN
Ben Hosey- guitar
Matt McFadden- bass
Yates- keyboards
Adam Stanley– drums
Mitch Parks – guitar, lead vocals
 
inReview: How would you describe your music? What makes it different than other new acts out there?
Ben: We were given a lot of artistic freedom on this album. We were able to get in the studio and make the album we wanted to make. And we're all kind of artsy music school guys, and so we've really taken a risk in trying to put some different chords, some different textures, and some razor sharp rhythms into our music. No, really what makes us different is that we're trying to push Christian music culture. Instead of trying to do what the last artist did, just to try and insure a career, we are taking a risk on writing really creative music to try and push culture along.
Matt: And at the some time not insuring our career. Guaranteeing our impending doom. 
inReview : Name three things you want people to know about you.
Mitch: I shall answer this. Hello my name is Charles. No, this is Mitch. My first name is Charles, so that's a half-truth. The main thing that people need to know about After Edmund is that we love Jesus, and we are not ashamed of that. We are not trying to use Christian music as a stepping stone. We want to further the message of Jesus. We want to preach the gospel with our music. We want people to fall in love with their creator, and whatever we can do to assist in that and partner with God in ministry, we want to be a part of. That is our first and foremost goal.
The second is that you're going to get a killer live show when you come out to see us. You are going to get 150% from the stage, and we are going to do everything we can do to get your attention so you'll listen to us when we talk about Jesus. We have a saying, 5 or 5,000. So if five people show up, we are going to work just as hard on stage, as if there's 5,000 people out there. And I can guarantee if you come to a show that's the kind of effort you're gonna get from us.
The third thing you need to know about After Edmund is that we love music, and we love people. We like writing music that we love, but we also like writing music that people love. So we want to make sure that we right music for people that love to think, and for people that don't like to think. So if you just want to turn the radio on and have a loud song that's a lot of fun, that's great. If you're looking for something deep - we like deep to, something more introspective. We'd love to be a part of your aural consciousness.
inReview: What made you decide to seek a national record deal over independent distribution?
Ben: I think what happens when you go from indie to professional, or whatever you want to call it, you team up with like minded people that want to get a message out there and believe in music. Basically you can put it in areas and platforms where you can't get by yourself. You can get it if your indie and happen to have a great following, and work really hard. I think you can cover more ground through a record label, management, booking, and things like that. Being distributed nationally, it's great, we really enjoy it.
Mitch: And since we have partnered with our label and our management, booking and publicist, we are actually in contact with several different missionary organizations that go out like "Compassion International." And we have partnered up with "The Book of Hope" which is an organization that prints the Gospel in cultural relevant forms. They go into eighty different countries and they take the word into places where you just can't get it any other way, So through the partnerships we've made along the way, we're able to take After Edmund from a city-by-city struggling rock show into helping people all over the world. So that's one of the biggest things that being with our label has helped us do.
inReview: Describe your ideal fan.
Ben: One that will come back over and over and over again to the shows and always tell their friends.
Matt: The ideal fan is one that is six feet tall, male, no I'm just kidding.
Yates: A ceiling fan, five blades, slightly tilted to about thirty-degrees.
Adam: I feel like I need to be goofy, but I am not. An ideal fan would be one who would pray for us, because we need a lot of prayer. That's the best support anyone could give us.
Mitch: The ideal fan would be someone who has lots and lots of mooooney, and loves to spend it. We are broke. I am unashamedly without the dollar bill. As a result, we need people that would like to have God work through them to provide meals. So the ideal fan is someone who really cares about not stealing music and buying our music and supporting us. And consequently at the same time paying for our gas and food, and for Matt's son's baby food next week, He is a very hungry, very obese child.
inReview: What album are you most looking forward to releasing this year?
Ben: Aside form our album, that came out this year that we were excited about it being released. I think maybe Coldplay is putting out another album this year.
Matt: Is Mute Math putting out something new this year? I know they are working on something. I am really excited about something fresh from them. I know they have been touring on that record for a gazillion years.
Yates: Again, the After Edmund album that released in February. And still to come this year, [an album from] good friends of ours from Canada named Article One.
Adam: I don't know of any albums that are coming out. I have been kind of under a rock here lately. If Mute Math is putting out an album this year, I will be on it like pig on pork, like white on rice.
Mitch: There is a young band that is friends of ours, a young band called Taken. I am looking forward to their record coming out. They are actually from our hometown so it will be good to see those boys get something out.