We were a bit shocked when we heard that Essential Records, home of Third Day and Jars of Clay, had signed a hard rock band. Intrigued by the musical comparisons to Linkin Park, Chevelle, and Muse, we decided to include Red as Part 1 of our New Artist Feature. We asked the same questions of two new bands. Come back to InReview to see what other band we sat down with and how they responded.
Red's album End of Silence debuted on June 6th. We sat down with two-fifths of the band in Nashville back in April for a time to get to know them better. Hopefully you will do the same.
GMA 2006
Nashville, TN
Mike Barnes, lead vocals
Jasen Rauch, guitar
inReview: How would you describe your music? What makes it different than other new artists out there?
Jasen: We spent a lot of time making the record and writing the songs. We are in heavier hard rock music. That sort of thing. And a lot of times a lot of bands put more emphasis on the actual music. On the parts — chord guitar parts, the break downs. We put more emphasis on the songs rather than on the parts. So we incorporated a lot of outside writers. We want to write good songs. Bon Jovi has writers that they write with, and we have our writers that we write with. In our genre, they write the best songs that they have out there.
inReview: Name three things you want people to know about you.
Jasen: Our record comes out June 6th. Randy and Anthony are twins. And Mike is a male nurse.
inReview: What made you decide to seek a national record deal over independent distribution?
Jasen: Actually, we got interest from both. And for us, it was a better fit. We view ourselves as more of a commercial product and we wanted to hit more of a major market. We totally respect the independent scene. A lot of our friends are very key players in that are great bands that are on the independent scene. For us though, we view ourselves as more of a commercial thing rather than independent. From the beginning in our creative process, we have wanted to be on a major record label.
inReview: Describe your ideal fan.
Jasen: That's hard. There are a lot. We have different age groups. We have like 45 year olds and much older that really really love our stuff, and we have the young kids who are 13 to 18 that are just crazy about it, too.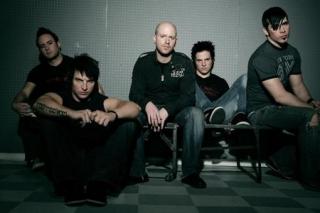 Mike: The ideal fan is somebody that listens to something for the first time, one of our songs, and either gets something out on an emotional level or is just impacted them in such a way that it changes something for them. I remember as a kid listening to bands. It is like when the whole Nirvana thing happened. You get these huge demographic and scene changes in music. Not that we are [doing] that, nor are claiming to be. But when someone has that prominent of an impact from the music, that is an ideal fan to me. Because that person has an investment in what to listen to and in the band.
inReview: What album are you most looking forward to releasing this year?
Jasen: I am not positive, but I believe the Deftones have a new album coming out this year.
Mike: I heard Silverchair has a new album coming out. Their last record is amazing.
Please continue with our second half of the feature, an interview with Hyper Static Union.