NOTE: This is a second of a two-part feature with new rock artists. Please read the first part, an interview with new artist Red, if you have not done so already.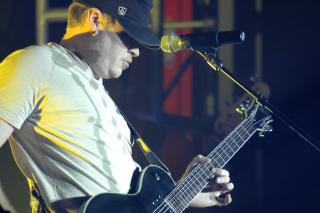 If you are a fan of Third Day, perhaps you have heard of Hyper Static Union. Mac Powell and his gang chose these four guys from Washington State to be the first release from their own Consuming Fire Productions. Even if you are not a fan of Third Day, by chance you may have caught the songs "Overhead" or "Praying for Sunny Days" on the radio. HSU's debut, Lifegiver was released on new Rocketown Records imprint RKT on May 9th.
For Part 2 of a New Artist Feature, we chose to sit down with HSU in Nashville.
HSU is:
Shawn Lewis, vocals and guitar
Ray Burnham, drums
Bryan Albrechtson, guitar
Michael Jackson, bass
inReview: How would you describe your music and what makes it different than other new artists out there?
Shawn: Our band has always tried to integrate funk into the rock genre. I mean we're really just a rock band, but we have an ability to jam, an ability to incorporate jazz elements, and funk elements, R & B, soul, things that kind of speak to the heart more than to the fist. And we're just trying to get the groove on, you know. There are some songs we can do that, some have a life of their own and we kind of forego the funk factor for just the song itself. But we're really trying to get the whole groove going as much as we can musically.
And I don't see anybody doing it well—putting funk and rock together. I've seen people try and Lenny Kravitz was a good example for us to kind of follow suit in like the way that he blended the riff rock thing. And a lot of what he ends up getting was something similar to classic rock, but we're able to modernize it a bit too.
Mike: I like your push on about how the rock has never been funky enough and the funk has never rocked hard enough.
inReview: Name three things you want people to know about you.
Brian: One thing which I think, you know, we've stressed in the past, is that we would like people to understand that we really try to be honest with ourselves and honest about what we do, nothing to hide, and just to know that we're really passionate about God first and our music, second.
I guess along the same lines I want people to know that we're grateful to be a part of this industry. And there's this kind of this thing, about Christian music about right now that a lot of artists are quick to define themselves as we're trying to go mainstream and we're trying to do whatever. God has given us an audience and we're ready to play for that audience. And if He decides to grow it, great. But we're grateful for everyone that will listen and we're enjoying the ride right now.
One other thing, Mike.
Mike: That we take our music and the musicianship seriously, because we know that there's a lot of people listening that are just starting to get into guitar and really want to have a lot of different elements. And a lot of people that respect music as an art form and things like that. And so we try to cater to that we try to interject some sophistication into our music,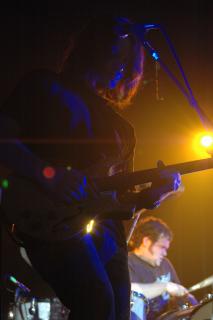 but keep it still approachable at the same time.
inReview: What made you decide to seek a national record deal over independent distribution?
Ray: I think, just the decision to sign a full blown record deal just you know comes down to the resources that you have with a team. This team in particular that we're with, RKT, it's a division of Rocketown Records and it's their division focusing on touring rock acts. And just the wisdom and guidance we have from that team is unbelievable. And they just keep continuing to pour into us and we really appreciate that. And we know that they have brought a lot of strength to our infrastructure as a band and can really help us rest and just focus on the music. Whereas as an independent band, it definitely had it's advantages, especially in the beginning. You learn a lot of how to stay self-sufficient. And I think if you can be independent for a while and stay self-sufficient, it will make you that much stronger longer when you have the full-blown team behind you as well.
I think there is a right time and place for everything. And for us, it just did not make sense to sign with a major record label for quite a while. We knew that we had a local audience that we really needed to plug into and pour into. And it is not about exploiting yourself. I think a lot of young bands think they need to blow up now and fast and live the dream. But I think, at least for us, we felt called by God to focus on our families in our local community. And that was more important than touring. We had those opportunities and we had a taste of it and it was great. But that local [audience in] Oregon and Washington, we are passionate about. We love home. But now is kind of the next chapter in our life. We are really enjoying touring on a national level now. The people we are meeting are great and they keep us going.
inReview: Describe your ideal fan.
Ray: The ideal fan? Oh, man. There are so many fan types. I think we kind of like the freakiest people that are still normal. I don't know how to explain it other than that. It's like if you can be a super freak, but you still don't scare us. People that identify with what you do strongly. I don't think God calls you to be connected with every single person. There are just too many different kinds of people. I think the only way that He calls us to be connected is just the recognition that Christ is Lord and that we love each other. But you know art forms are just so dynamic. That is why art is beautiful.

Shawn: We just had a comment the other day from a radio programmer who heard our stuff and said, "You guys are making me believe in music again." That to me is the ultimate fan. We are here to renew this art form. Not that we are the only good thing out. I am just saying that we revere music so highly and we take it seriously enough that I think we can convey that from the stage. We are about the song, the craft, and God has just given us the opportunity to do that right now. So our ideal fan is a music fan. And our ideal fan is also someone who is a way bigger fan of God than they are of us. That has perspective on it. That we can come alongside them in their walk with Christ, but not be their walk.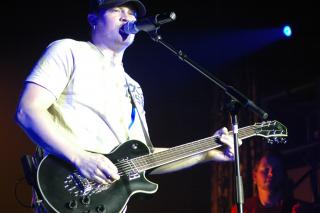 I heard Todd Agnew say this from the stage at one of our shows. He was like, "I want to accompany you on your walk with Jesus. But if you are listening to my CD more than you are reading the Bible, then there is a problem." I just thought that was a really cool perspective.
inReview: What album are you most looking forward to releasing this year?
Shawn: The same day that our record comes out, May 9th, a Red Hot Chili Peppers double disc album comes out. Our listening choices have changed over the years. In high school we were really into the Red Hot Chili Peppers. I think we have kind of matured a little bit since those listening days but so have those guys a little bit. I am interested to see what they have on record and we pray that some day they get saved.
Mike: But there is no denying the quality and the influence of that band on me, and I am sure for the rest of the guys. They have a great outlook on music itself. "Be true to yourself and be original." That kind of thing.