Meet Me In Motion - a band fairly new to the Christian music scene, but poised to quickly move up in the ranks. Comprised of three stellar guys, and based out of Columbus, Ohio, Me In Motion is off to a great start. And it sure doesn't look like they'll be slowing down anytime soon.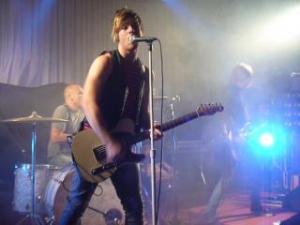 Let's begin with some introductions. Seth Mosley, lead vocalist and guitar player, is the one who started the band. When? Nobody seems to be exactly sure, but the consensus is that it was about two years ago. "I had been working in the studio as a producer for a couple of years, and knew for a fact that I couldn't sit down in one place for a long time. I just love the spontaneity of being on the road for a long time and meeting lots of cool people and playing music that reaches out to people," says Seth. When I asked him what he would like the fans to know, he replied with a very important fact. "If you ever come see us at a show and want to give us any presents, we really like Mamba candy."
And then there is Brian Dexter, who is the drummer from Kansas. "And no, I didn't grow up on a farm, and no I don't know how to drive a tractor!" he jokes. Very personable, he is more than happy to show us his new gray, Dexter© brand slip-on shoes that he recently discovered and bought at Payless. "I got them for the buy one, get one half off sale," he very proudly shared. Who knows, maybe this little blurb will get him an endorsement.
And last, but not least, the bass line is fashionably held together by Tim Wilson, who proudly sports a "super manly beard." I have also been informed that he is indeed the nicest person alive. "It's a scientific fact," Seth reassured me.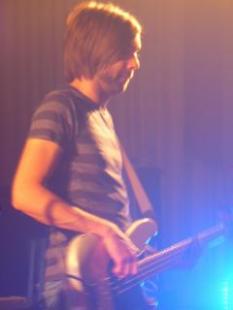 With an EP under their belt, Me In Motion is releasing their full-length album on Word/Curb Records in early 2009. The release will be met with much anticipation, while fans are already pre-ordering the disc at shows. Speaking of shows, the band recently appeared on stages across the country, opening for Firelight and Nevertheless on The Unbreakable Tour. "Ninety-nine percent of our lives are spent driving in a van!" Seth informed.
Fortunately for those who haven't yet ordered the album, a few of the new songs can be heard online at www.myspace.com/meinmotion. Among those included is "Tears," their first radio single. It's a very catchy track that is both simple yet profound. It speaks of going through an emotional time and crying out for God's grace. "Welcome To Your Life" noticeably showcases their pop sound and yet proves that they are a band that is definitely not afraid to rock out. With many Brit-rock influences, MIM easily stands out from the stereotypical, rather new bands. They cite The Killers, Oasis, Doves and the Foo Fighters as some of their favorite influences.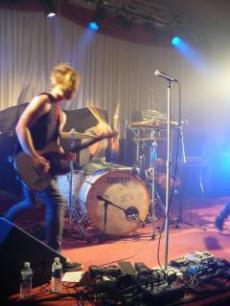 Me in Motion is dedicated to promoting the idea that we, especially as Christians, need to get up and actually do something - hence their name.  "Don't just sit around and wait for change," Brian instructs. He believes that it's good to attend church and youth group, "But don't stop there. Do something with your life and make a change for good." Exemplifying this in their own lives is something they take very seriously and hope to portray to their fans. They make sure that they consistently and genuinely hang out and interact with those who come to their shows, and make it a priority to share with fans the joy of living a purposeful live for Christ. "[We] share our hearts with them," says Seth. In doing so, all three of them can honestly say that they are most definitely constantly "in motion."
"This is the band that I've been the most excited about," Brian shares, "and I'm excited about what's coming up." Great things indeed are in store for Me In Motion. So be sure to check out this passionate band - I know I'm excited to see where God takes them!