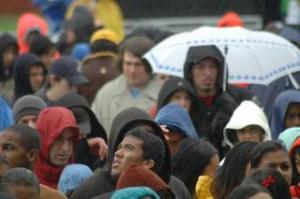 Rain.
If we were to play word association, and you asked me the first word to come to mind when I hear "Summer Festival 2006" I would quickly reply with, "Rain!"
My 2006 summer festival season began in early June at the Witness Festival, a free event that takes place on a Friday night and all day Saturday in Quarryville, PA. As with most festivals, I help out as a volunteer. Last year I was only able to help out on Friday night. Thankfully, I was able to hang under the stage roof during my shift as Security. Soon after the closing act came on stage, the skies opened up.
At the end of June, my calendar is always cleared for the Creation East festival in central PA. Creation East is held at the end of June each year in Pennsylvania and at the end of July as Creation West in Washington state. A large four-day festival with something for many ages, it draws people from several states and Canada, and even other countries around the world. But last year, some 70,000 people heading to PA were forced to make different plans.The food was purchased and the camper packed. I was trying to get my desk clean at work on the Monday before I was scheduled to leave on my trip when I heard the news that of the Creation East cancellation due to rain. It was raining on the entire eastern seaboard so I could not even consider taking my youth group kids and camper somewhere else. I had considered heading to Cornerstone in Illinois, yet it involved too much extra planning. I went back to work for the rest of the week instead.
In searching online for other festivals to fill my almost addictive need for such events, I found out about a oDay of Fire at The Callne day festival held not far from where I live called Passion Fest taking place in early July in Pottstown, PA. I did not volunteer since I found out about the event so late. Promotion must have been slim because most activities that involve music, especially close to where I live, are active on my radar screen. The event was free and provided a wide variety of good music from all genres on one stage. Also included was a BMX bike display, among other non-music related activities. However, last year Passion Fest was almost cancelled due to excessive rain before the day of show. The promoters found another site with less mud and the show went on as planned.
In late July, I have found myself attending another one-day festival in Bensalem, PA just outside Philadelphia. The Call is another free festival that includes many local and regional bands on one stage, with more well known national bands in the evening. Sporadic rain showers hit this event last year, yet many people still came out throughout the day to experience the music and other happenings.The Myriad at Purple Door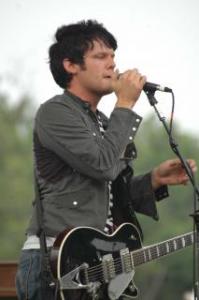 August brings the Purple Door Arts and Music festival held in central PA. For me it is in many ways my favorite festival of the summer because all the music I enjoy is offered. It is hard sometimes however, to catch all that I want to see due to four stages with all good music, along with an art gallery. Purple Door is held each year on a Friday night and all day Saturday. I schedule my volunteer responsibilities for the Saturday evening program to allow the chance to experience as much of the music during the day as possible. This time, when the rains came down during Relient K, I was not able to seek refuge under the stage roof. However, a summer rain after a warm August day is not such a bad experience. Though I still hope 2007 brings an end to the string of rainy outdoor Relient K shows where I have attended.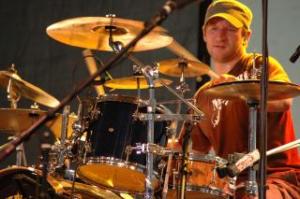 Labor Day is often called the unofficial end of summer. Yet September brougSanctus Real at Falloutht three more summer festivals to my calendar. Unfortunately, a hurricane blew up the east coast just before the second annual Revelation Generation festival and dumped its remnants on Revelation Farms over Labor Day weekend in central New Jersey just in time for this one day event. The promoters have such a strong desire to bring such an event to the New York City, New Jersey and Philadelphia area. So after hearing the weather report in the wee hours of the morning that claimed the rains would clear up during the day, it was declared that the show would KJ-52 at Revelation Generationgo on. Unfortunately the weather reports did not hold true, so the event was officially cancelled by mid-afternoon. Bummer. I really wanted to see Relient K in the rain again!
The middle of September brought my second festival. A one-day event with sports and music held near Allentown, PA. The Fallout fest is geared toward teens, yet I managed to attend last year without any of my youth group kids. Music and speakers run throughout the day in a huge tent set up in the parking lot of a huge church. Other smaller stages are located indoors. And of course, even though shelter is available, each time I have attended Fallout, it has not rained! Other opportunities include Basketball tournament and inflatable games. The festival is held in conjunction with the "See You at The Pole" event.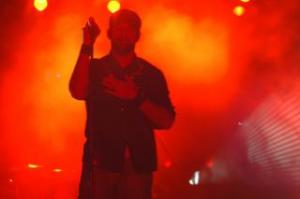 The third September festival I attended was Vertical Fest just outside ShiPillar at Vertical Festppensburg in south central Pennsylvania. Vertical Fest is another one night and one-day event that brings local, regional and national bands throughout the day on several stages. The last festival of the season for me, I wondered whether or not the rains would come. The cloudy skies and occasional sprinkles had me concerned when I first arrived on Saturday. But as I walked around to survey the location of the various stages, as well as the location of carnival like games and sports competition areas, the threat of rain seemed to go away.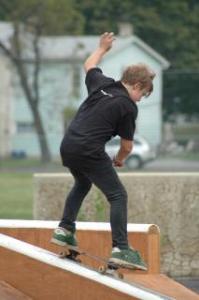 I plan to attend most of these same festivals this year, and perhaps I will add a couple more to my list. Some of the larger more well known festivals I may check out are The Bamboozle just outside of New York City or the The Warped Tour coming to cities throughout the US and Canada.
You may not live in the areas that serve the festivals where I attend. But each year I notice more and more festivals, both large and small, keep cropping up. If you are not aware of the events near you, check out ChristianFestivals.com or iTickets.com for some information on Christian music festivals. As noted here, many festivals contain various music and events geared toward pleasing a variety of people. There is a festival for everyone!
And by all means, volunteer! Not only will you save on the price of the ticket, but you may meet some great people who may become your new friends!