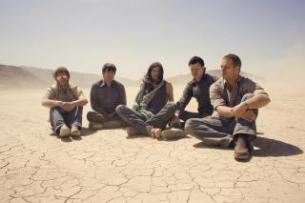 Since we sat down with Matt Carter (guitar, vocals) and Josh Head (keyboards, vocals) of Emery at last year's Purple Door Arts and Music Festival, the band has been busy.  Between touring and releasing an EP last fall, with a follow up full-length disc which hit the streets in June of this year, we wonder how they find time to spend with their families.  While inReview is getting ready to set sail on another Purple Door event, Emery is headlining a tour in support of their most recent release, … In Shallow Seas We Sail.  These veterans of the music scene spoke to inReview in this exclusive interview.
inReview: You just got off tour with The Almost, Envy on the Coast and Army of Me.  How do you structure your set lists for a tour vs. a one-day festival type event?
Josh: It kind of depends on when we are playing, like if we are headlining.  We kind of play a similar set at a festival to our headlining set, you know, because usually it is a longer set time.  Whereas if we are doing a support type situation, our set is just like a thirty minute type set that would just depend on getting enough songs in there.  So that is kind of how we base it on is how long we actually play is how we change that up.
Matt: And it is not just the length of time – we usually have a high point and a low point.
Josh: And we have two singers.  There is a couple of songs that we end with depending on – we have two guys that are lead singers so we try to mix up a couple of each of the guys songs just to make sure there is less strain on one person's voice.
inReview: Toby has said about your latest album, "Some of the songs on this album might encourage our fans to dance along and embrace the hooks, but if you check out our lyrics, some of them are just heart crushing. We knew we were doing something different, but we didn't go too far. We didn't leave ourselves." How do you go about making the songs so upbeat while the lyrics are darker and deeper?
Matt: That is something we have always thought was really neat.  I guess we have always been drawn to sad lyrics in music.  I mean I think we also like a lot of sad in drama and movies and kind of things like that.  I am not even exactly sure why.  I think people are naturally drawn to that because it either makes you feel better because at least you don't have anything that sad. Or at least you can identify with it, but on a lesser level or something like that.  Maybe it makes you feel better.  But we have always liked, you know, lyrics and stuff like that to be sad but in music it is really kind of something different where you want to feel all kinds of different things.  Something might be upbeat or be really boring and just to match that, you made all your music really slow. We want some things to be more aggressive and more fun.  And we also think there is a neat contrast to have that where there is actually some tension between the way you feel and then you hear all the lyrics and you are like, "Oh wait a minute!"  So that is kind of a little bit more interesting aspect.
inReview: Of course that brings me to another subject which I won't go into about lyrics.  You know Christian music and the "positive radio" station.  I could go into a whole long thing about, "What is positive music?"
Matt: I agree with you on that, though.  David Bazan said this one time.  He did not see the point of all positive Christian music because it starts with the assumption that everybody already knows that everybody is messed up and what is wrong with everybody and then it goes straight to Jesus.  But most people aren't even there yet.  Most people don't even know what's wrong with them, what's wrong with the world, and what people are really like.  Most people don't even follow Christianity in the first place.
inReview: That's a good point.  Of course, I just look at the Bible and think, "Is it entirely positive?"  So why is Christian radio often called positive.  But anyway … that's my little tangent there.  Have you gotten the response to I'm Only A Man that you expected?
Matt:  Actually, no we didn't.  We haven't so far.  A lot of people were more thrown off by it than we thought that they would.  Just because it is a little bit of a different sound.  It actually turned out more different than we thought it was or realized that it was.  We have had even a shift in who our fans are, somewhat, because of it.  But it has not been bad because when we have been out on tour we have actually drawn more people and had more fans than we ever had before.  And we have sold more tickets and stuff like that.  And we are really happy about that.  But it has shifted as far as who the fans are somewhat.  There is less people that show up wearing make-up and bandanas on their head and stuff like that.  They just came to dance.  So those people maybe just like the pop songs or something like that.  So I think it has broadened our fan base in a way we did not expect.
inReview: You have been on tour with many bands, including time on the Vans Warped Tour.  Looking back, what is your favorite band to tour with and why?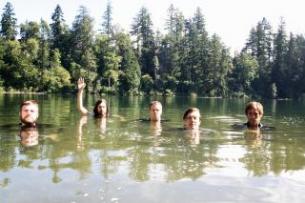 Josh: Wow.  That's tough.  There is probably a couple.  As Cities Burn and The Academy Is… are my favorite bands to tour with.  We have also toured with them a couple of times and Warped Tours.  They are just really good friends of ours now.  At least for me anyway, I more enjoy the friendship that you make when you are on tour, as opposed to music they play.  Even though I like the bands music.  But most of the time I would much rather enjoy their company than perhaps the music.  Because once you are on tour for a month and a half with a band and you have heard their songs every single night.
inReview:  When was the first time you noticed that music had a big influence on your life?
Josh: For me it was, I guess probably, I guess at the end of Jr. High School and into High School.  That is when I started listening to bands that were not on the radio and getting CDs and really getting into different types of music.  Being from Seattle, there were a couple of Seattle bands that I am a huge fan of all throughout High School such as Pedro the Lion and Poor Old Lu, which is Aaron Sprinkle's band.  I really like those bands.  That is when I started getting really into music.  There is another band, Sunny Day Real Estate, another local Seattle band.  They are all smaller bands but they are all bands that I really really liked and kind of musically different than anyone else.  I mean obviously we have Nirvana and Pearl Jam playing on the radio at the same time, which I also really enjoy.  But I just really grabbed hold of I kind of the  "indie rock".
inReview: So you were listening to the music before that, but all of a sudden it was just …
Josh:  Yeah, like when I was growing up it was the music my parents were listening to but I did not have a desire to pursue playing music much then. Until I was like, "Man, I want to play in a band and make music like this."
inReview: Do you have anything to add to that?
Matt: I am not really sure.  Like I guess I always assumed everybody liked music and listened to music because everybody does.  But either you listen to it like it is something you do or is something you are into.  You know, and there comes a point when you realize, "Wait a minute.  I can seek out music, read about it.  I can try to find out about find something and you can say, "I like this."  And actually find something and search out a band that has had a memory you like or something that is off a certain label or something that you heard about or something that you just searched on the internet.  So I think some people never make that switch and actively start pursuing music.  And even when you do, it only lasts a certain number of years, too, and then they like that music the rest of their lives.  I guess that is what kind of happened to me.  I was maybe a bit later than most people.  I liked music kind of passively and then when I was in college I realized that it was a good hobby.