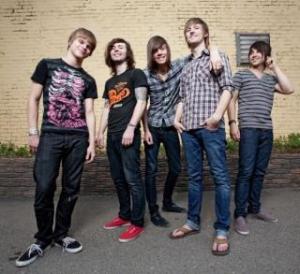 Some of the best interviews I've had the opportunity to conduct were completely on the spot and unplanned. This doesn't happen often, due to the busy schedule of most bands; but I had the pleasure of happening upon one quite recently.
While attending a show on the Drop Dead Gorgeous tour, I was fortunate enough to run into a band that I hadn't heard of before and that I immediately fell in love with. As they took the stage, tuned, and then began their first song, I inhaled a breath of fresh air. At a predominantly intense hardcore show, their heavy guitars and pounding drumbeats were lightened with melodic vocals. Two songs into their set, the piercing screeches of the venue's fire alarms could be heard, causing the bewildered band members to cease playing their instruments as the crowd was ordered to exit the room until all was clear. Those two songs were my first introduction to Before Their Eyes.
This five-piece experimental/pop/post hard-core band from Findlay, OH, is bound to be the next big thing in both the mainstream and Christian music scenes. They were signed after they played their second show, have already headlined a tour, and will begin recording their third album in October. After they release the CD, they hope to find a bigger label as a home. "We're on a label called Rise Records out of Oregon, OH," says Anthony Damschroder, bass player. They were introduced to the label with the help of fellow hardcore musicians, The Devil Wears Prada. "They are actually the reason we got signed. Their drummer, after about three of our shows, sent our demo over to Rise Records and they picked us up," he continues. "I was actually at the show where they got signed," Elliot Gruenberg, on guitar, who wasn't yet part of the band excitedly added. "I was just a dude in the crowd!"
Elliot and Anthony, along with Landon Tewers (guitar) and founding members Jarrett Hottman (drums) and Nick Moore (vocals), are intent on using their music to touch the lives of those who hear it. In addition to providing meaningful lyrics that come out of their own experiences and relationships with God, each guy strives to be attentive to the needs of fans and reach out to them before and after shows. "Obviously we can't always get up there and preach because we don't always get a responsive audience," Elliot says. So instead, they take a more subtle approach.  "What we like to do is just be…loving and caring and that stands out to the kids. It's actually something meaningful; not just saying 'Hey guys come talk to us after the show, goodbye' and then you never see them again. If you need prayer or ministry, we're more than willing to just talk about it. You don't have to be a Christian [for us to do that], we're not judging you."
With big hearts and an even bigger sound, Before Their Eyes is poised to hold a great future. They continue to gain fans while on their current, nationwide tour. They're scheduled to play the Revelation Generation festival to close out the summer, and will then start working on their newest album (with plans to include a switch to mainly sung vocals, rather than screaming).
Check them out on www.myspace.com/beforetheireyes for up-to-date information on their touring schedule, and plan to catch them at a show in your area. If you like some good rock and hardcore, you won't be disappointed!