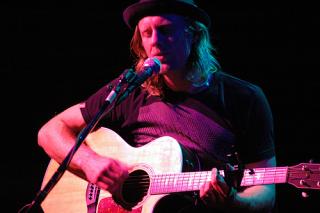 I first heard the term "after-show" back in the fall of 2006 when I was looking for the members of Switchfoot and found out there was some sort of acoustic show at a coffee shop several blocks away.  I arrived at the after-venue to find Jon Foreman, lead singer, sharing some of his writings with Drew Shirley backing him up on guitar. A year later, when available coffeehouses were scarce, I attended two after-shows where the platform was the sidewalk outside the venue of the Appetite for Construction tour, including New York City.  Just months later, I had the privilege of attending a "real" Jon Foreman acoustic show near Greenwich Village where Bob Dylan began hitting the music scene decades earlier.
As an "after-show" became more common, fans became aware of Jon's plans to release solo music in four EP's covering each season for a year, beginning in the Fall of 2007.  Soon after Summer released this year, we were able to ask Jon three questions in this exclusive interview.
inReview: Now that all four EP's have been released, as you look back, do you feel you met your expectations when you started this project, or exceeded your expectations? Explain.
Jon: On one level recorded music can never match my expectations - the energy, emotion, and vibe of the music in our heads is hard to capture. On another level, I'm blown away by this whole journey - especially because at many points along the way I wasn't so sure anyone other than my close friends would ever hear these tunes.
inReview: From my vantage point, it seems like you are always writing songs. I know you write a lot of music that never gets recorded. Is there ever a time when you don't write songs? If so, what is that like?
Jon: I write a lot of songs. During certain times I will refrain from writing either to organize the material we've already got or to organize thoughts. Songwriting is incredibly self-indulgent. Even when I'm singing about someone else I am very conscious of my own voice. So there's a time to be silent- to build up a reason to sing again.
inReview: What do you admire about Bob Dylan? Is there anything about him that you are wanting to emulate? Why?
Jon: Bob Dylan spoke the truth in a manner unlike most any of his predecessors. Rather than trying to fit into the forms available to him, he created a form to fit what he wanted to accomplish. Beethoven did the same thing. I think you could argue the same point about Radiohead. I like artists who defy the conventional definition, transcending what has been done and moving towards the unknown. This has implications far beyond the songs themselves as the arts are an integral part of shaping a society. "Sing me the songs of a country and I care not who writes the laws."  It's a rough paraphrase of a quote I think is fairly true...