As I write this, the latest disc from Paramore is spinning in my computer. Paramore was one of the bands I had hoped to see on this year's Warped Tour.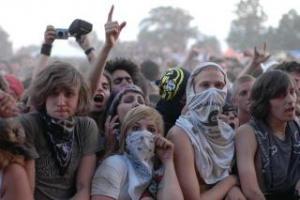 Other bands on my "want to see" list included As I Lay Dying, Jonzetta, Maylene and the Sons of Disaster, New Found Glory, and The Fold, among others.
The band lists for the Vans Warped Tour in recent years had caught my eye. However, the dates closest to me always seemed to creep up so fast that my lack of planning (aka procrastination) took over and the event passed by my neck of the woods without my attendance. This year, I was determined to be present at least one date since four dates were within about a two-hour drive from my house. So I had plenty to choose from.
The planning process began in early July. I decided that my friend who is a DJ on WBER, an alternative station in Rochester, NY was a good companion for the occasion. After all, we first met at a music festival five years ago, and have met up at many other music happenings since. The diversity of both new and up-and-coming bands combined with some older better-known bands fit well with both of our interests in music.
As it turns out, the Barrie, Ontario date in August was my friend's birthday. So, instead of travelling within two hours of my house, we drove about three hours from his house, and crossed over into another country. Add the five-hour drive to his house, and you might think I am crazy! While the trek was long, it was worth it, even though our crossing the border took longer than expected.
By the time we arrived at the venue, however, we missed many of the bands I had hoped to see. As we walked to the press area, we found some kids with a band schedule, and I soon realized that many of the bands I wanted to see actually played at the same time. I was prepared, however, knowing that there were some sixty-plus bands and eight or so stages. The chances of experiencing every band you want to see slims down as the number of stages increases. Each set is about a half an hour, and with so many stages, the distance between was bound to affect the ability to catch all of the music that is offered as well.
The order of performance changes each day so a schedule is not available until the day of show. This way the bands have a sort of equal ground. Bands are supposed to leave their egos at home. Part of the reason that Warped Tour originated was to provide a low admission price to music fans and to showcase young bands that perhaps people don't know about.
I had an interview scheduled with The Rocket Summer. Yet due to our delay and the often-crazy schedule for the artists each day, we were unable to sit down with Bryce Avary, who fronts the group and plays the majority of its instruments on studio albums.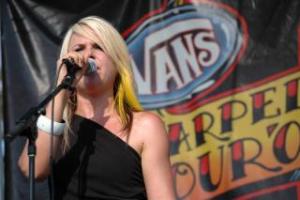 I must mention that the media coordinators and other people we spoke with had many good things to say about Bryce. I was able to speak with him briefly at his merch tent. Hopefully soon we will be able to sit down with him. That brings another good point about the Warped Tour. Many of the artists are accessible simply by stopping by the merchandise area.
Now on to the music. Yes, we did catch some live music during our stint in Barrie. Firstly, there was a must-see band hailing from Montreal. Your Favorite Enemies was first introduced to my DJ friend via Myspace. He was drawn to the band for their involvement in Amnesty International. YFE also uses their platform to promote Rock N' Rights, an organization advocating human rights started by members of the band.
Other bands we caught included Bad Religion, Flogging Molly, and Coheed and Cambria. Each with a slightly different sound, but all put on a good set. I did not get as many pictures as I would normally take since dust was prevalent everywhere we went. Regulars to the venue were prepared with masks and bandanas wrapped around their faces.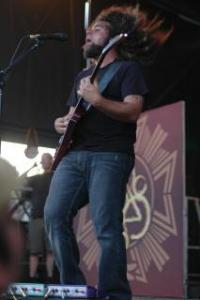 The highlight of our day was not the music, rather the after party. Somewhere around dinnertime, we stopped by the press area to check in on the activities, and we found a large table with a nice spread of food beginning to form in front of us. Soon I noticed a Mexican theme forming with food and decorations filling in around us. The porta potties were even donned each with pictures of male and female Mexican dancers.
Before heading out to hear more music, we spoke with a member of The Fabulous Rudies, who was standing behind the food table preparing a Mexican feast. Described on their Myspace page as an "eclectic mix of rock, ska, and politically driven reggae and punk rock" and coming from the San Diego music scene, the seven-piece outfit was given the honor of being the 2007 Warped Tour BBQ Band. As the BBQ Band, the group hosted the post-show cookout for the tour's musicians, organizers, and promoters after each performance day.
Even before the last band closed the night, we strolled over to the backstage press area again to take in the Mexican fiesta. We soon found out that this was a special day. This was not the normal end of the day cookout. This was a special cookout that only occurred a few times each summer. The relaxed affair was highlighted by a six-member reggae influenced rock band from Canada called playing music, lots of food and beverage, and a chance to hang out with the bands and their roadies. And we were there to experience it!
Earlier in the day we met Beth, a media coordinator from Australia now living in England who was just finishing two weeks on the Warped Tour. This was the second year she ran with the tour. My DJ friend appeared a bit jealous, inquiring about how she obtained such a position. In short, it all started with communication with the tour founder. Later, while at the after party, Beth graciously introduced us to Kevin Lyman, draped in a Mexican poncho with a sombrero adorning his head. Kevin is the man behind the longest-tenured multi-act touring festival on the road.
It shocked me at first, I suppose. I mean, shouldn't he be sitting in some huge tour bus, basking in the glory of the seeming success of his event? No, instead this humble guy is hosting quite a nice gathering of a good majority of bands that had played that day.
Before leaving for the night, we had our fill of some great food, thanks to the cooks from San Diego. My DJ friend got some radio liners for the station. And we met all sorts of people. While we did not take in as much live music as one would expect at such a festival, we could not have planned a better day. However, we did agree that if we decide to go together next year, we would leave earlier in the morning.