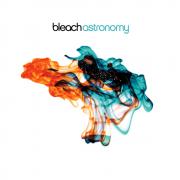 I have to be honest: upon my initial listening to Astronomy, Bleach's fifth studio recording, I was stricken with disbelief. The majority of the disc had a rushed feel to it, and some songs seemed strained or unnatural. It was like looking at one of those 3D pictures that were so popular back in the 90s - no matter how hard I stared at one, I never could see the darn thing. Luckily, I remembered reading that Bleach planned on dedicating the album to Josh Byers, brother of band members Milam and Jared. After I scanned through the press kit and read his story, my perception changed for the better.
As you may or may not know, things weren't exactly going the way Bleach had planned upon entering the studio. Time was pressing them into a corner, and inspiration was severely lacking. Hoping to weave an album themed around the joys of being a Christian, the group earnestly prayed to God for inspiration and, as a result, wound up writing songs that they had no idea what they meant. "[We] came out with a darker feel than we intended," lead vocalist Davy Baysinger mentioned in the band bio. "We were asking one another how that happened when it wasn't the intention."
Meanwhile, Captain Josh Byers had been deployed to fight in the war in Iraq. He was Bleach's self-proclaimed "biggest fan" and an accomplished military leader, becoming Troop Commander of Fox Troop in June of 2003. He apparently had his Bleach brothers in mind while overseas, performing such bold acts as taping Bleach's name across a poster of Saddam Hussein's face. Yet, in the midst of these joyous occurrences, Josh's family and friends constantly worried about him and prayed for his safe return home. The smooth, sobering track "Tired Heart" was borne from this concept, intended to provide Josh with the comfort he needed: "Peace, be still / I am with you / rest in me for one more night…replace your tired heart with mine." Sadly, on July 23, 2003, Captain Josh Byers fell in battle after shrapnel from a remote controlled bomb pierced his chest. Grief-stricken and weary from receiving the news, Bleach's members sought comfort and received it in the form of the lyrics they had just written. Through God's miraculous hand, the enigmatic songs now served as the band's therapy. Amazingly, the 3D picture came completely into focus.
As these songs spoke to Bleach, so they spoke to me. Triumphant rockers "Get Up" and "Plan to Pull Through" thrive on asking the Lord for hope and perseverance in the face of hard times. The epic title track and the soothing piano ballad "Patience" both seek answers as to why suffering and hurt must occur, but then answer themselves through "Astronomy"'s lyrics: "All I know is that this falling star will die / and for a moment light the sky and lead me home." Don't expect the album as a whole to be somber, though, as Bleach continues rocking in trademark fashion. "December," "19," which is a drum-emphasized ode to a significant other, and "Moving On," Bleach's hopeful vow that they will continue doing what they do best, are premium examples.
No, Astronomy isn't musically groundbreaking, nor does it push the limits of the band's creativity. But it seems God had other plans for this album. The disc's ultimately encouraging lyrics and deeply moving instrumentation surely outweigh all of the miniscule, negative aspects, and it's quite possible that our Father is using it to speak to others in the same way it spoke to the band members. Whether or not you're suffering trials and tribulations at the moment, it'll speak to you as well.
This one goes out in remembrance of Captain Joshua Byers and all of our servicemen and women who have fought and are fighting for our country. With all sincerity, thank you, and Godspeed.