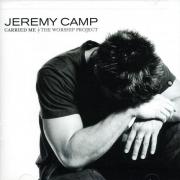 The concept of God carrying us through trying seasons has inspired many artists to craft paintings, write poems, choreograph dances, and record songs. The irony is that the deeper the valley, the more genuine and beautiful the artistic expression that results from the journey. The past tense of Carried Me signifies a time of reflecting on past problems, but Jeremy Camp's songs also speak to present battles and battles yet to come. Drawing primarily from the pain of losing a spouse, Jeremy Camp crafts songs of hope and trust.
The theme of trust resounds in this recording, beginning with the first track. "Trust in You" speaks of relying on a God who cannot be seen or felt, and the faith required for such an endeavor: "I can't see You, but I know You're there / I can't feel You, I will not fear / I will trust in You, and I will not be afraid." By keeping in mind "all the battles [that] have gone before," Camp knows that if God's gotten him through one season of pain, He will prove faithful the next time around. "I Wait For the Lord" sings of exactly that: waiting for God to speak to and through the storm. Being still in times of turmoil requires a great degree of trust. The song "Walk by Faith" (heard on Camp's debut album Stay) addresses a lack of sight when walking His way: "I will walk by faith even when I cannot see / because this broken road / prepares Your will for me."
Hope abounds throughout the songs as well. Matt Redman's "Wonderful Maker" makes an appearance with the words, "You spread out Your arms over empty hearts / said, 'Let there be light' / to a dark and hopeless world / Your Son was born." In "Hear My Voice, "Camp sings, "You are the only one who brings me peace / You are the only one where hope is seen." And "Longing Heart," the second-to-last song on the album, gives hope to listeners by reminding us that nothing really can separate us from the love of Christ.
Camp's new wife Adrienne, former lead-singer of The Benjamin Gate, appears on "Beautiful One" and "Wonderful Maker." Her vocals add a unique touch to Camp's Creed-ish tone, and I wanted to hear her voice in more songs. Adrienne's harmonies make these two tracks the shining jewels in this creation. This isn't to say that the rest of the songs are musical disappointments. For instance, "I Wait For the Lord," while missing the female touch, rocks hard with chunky guitars and fits Camp's vocals to perfection.
The song that surprised me the most was the last track, "Carried Me." Pulsing program loops, not guitars, provide the soundtrack to Camp's airy harmonies (yes, Camp sings "airy" in this song). Haunting "oooh"'s and "yeah"'s against a slow techno beat remind me more of Andy Hunter than of a corn-fed Indiana boy. Perhaps Adrienne brought some of her musical influence to the table. "Carried Me" almost feels out of place, especially considering it serves as the title track. But its lack of categorization didn't disappoint me in the least; in fact, I would love to see Camp experiment more with this style on his next album.
Because Carried Me: The Worship Project culminates with a song that reminds me more of rolling water than a rock concert, I leave the album with a sense of serenity. I hear the hope and trust in the simple musical arrangement and soft lyrics: "Jesus You have carried me / it's Your footprints in the sand / Jesus You have carried me / it was always in Your hands." Jeremy Camp has succeeded in forming a worship album that not only echoes his personal walk, but that may also help people hope for a better day and trust in a God who can bring such a day to fruition. And he has a right to this claim, for God has brought the "better day" into his life.