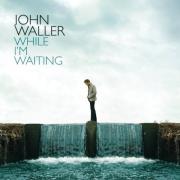 A high-profile single is often a two-edged sword. On the positive side, it can offer a struggling artist the exposure they need to bring their music to a much wider audience. On the other hand, it can often paint the performer in question into a stylistic corner as they churn out a series of like-sounding copies in an attempt (usually, an unsuccessful one) to replicate its success. Like Bob Carlisle ("Butterfly Kisses") and MercyMe ("I Can Only Imagine") before him, former According to John front man John Waller was catapulted from relative obscurity to near-household name status when "While I'm Waiting," a track originally recorded for his 2007 debut solo outing , The Blessing, was included in the hugely successful Christian-themed movie, Fireproof.  
Featured once again on Waller's sophomore project, "While I'm Waiting" finds the Georgia-based singer turning in a pleasant, albeit not particularly ground-breaking, strain of adult contemporary-tinged pop. Those who liked "Waiting" should be likewise pleased with slower, radio-friendly pop/rock entries such as "Hands of the Healer," "Cling to the Call" and the sparkling acoustic guitar-based worship anthem, "Perfect Peace." Those who consider such fare a bit too soft for their tastes would be well advised not to throw the baby out with the bath water, as cuts like "Faith is Living," "Quest" and "Our God Reigns Here" find Waller edging incrementally closer to the harder-edged end of the pop/rock spectrum. More importantly, tuneful, hook-filled entries like "House of God" offer listeners incentive of the sweetest, most listenable kind to take all arguments of "is it rock or not" and toss them out the proverbial window. 
Many a purist will object to Waller's new effort featuring – not to mention taking its name from – a previously-recorded track. Given its prominent placement in the Fireproof film, the motive for including "Waiting" twice on as many albums does, in all fairness, seem a bit suspect from a purely artistic standpoint. Be that as it may, the underlying reason for such repetition probably has more to do with simple logistics than outright opportunism, given that even most diehard Christian music buffs had never heard of Waller, much less purchased his debut album, before Fireproof hit theaters. 
While Waller's latest project certainly doesn't hurt for winning material, it should be noted that only a handful of its songs make a lasting first impression. Likewise, its energy dips precariously low at more than one point between the first and last cuts. That said, Waller's sturdy singing voice and heartfelt delivery do much to overshadow its sporadic shortfalls, and the songs do tend to lodge themselves in the long-term memory after several listens. And, unlike far too many records in the post-iTunes era, which favor the obvious-single-padded-with-filler approach, none of Waiting's entries could be considered out-and-out gaffes. Indeed, even with its intermittent shortcomings factored into the equation, the album, as a whole, is still a consistently pleasing work sure to satisfy listeners in both the modern worship and inspirational pop camps.