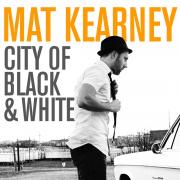 After hit single and title track from 2006's album, Nothing Left to Lose, took off Mat Kearney found himself on the road continuously. Supporting acts like John Mayer, Sheryl Crow and The Fray as well as his own headline stints, Kearney has been making a name for himself ever since.
Three years and many traveled miles later, Kearney is back with City of Black & White. Of his release, Kearney has said it is a record about community. "There's definitely the theme of this traveling/sojourner/vagabond kind of guy landing in the midst of people that he loves, and who love him."
You can easily see this on the first track, "All I Have." Seemingly talking of the past three years of touring and being away from loved ones, Kearney sings "All I have, all I have, all I have, you know it's yours/Every breath, every step, every moment I'm looking for/All I have, all I have, all I have is yours/If you watch my heart break a little bit more."
Kearney has said he listened to U2 and Tom Petty while recording the album and this influence can be heard on many tracks. Additionally, "New York to California" strikingly evokes early Coldplay, specifically Chris Martin's vocals and piano accompaniment throughout hit single "Clocks."
The slower ballad "Never Be Ready" recalls Kearney's radio hit "Nothing Left to Lose" with its catchy chorus and slow buildup throughout the song while "Lifeline" portrays longing, specifically in lyrics, "The world is too big to never ask why/The answers fall straight out of the sky... I can't feel a thing without you by my side/Send me out a lifeline." At times his voice sounds saddened, as he pours all his emotion into each song.
While there isn't tremendous variation from track to track, Kearney's relaxed and familiar vocals are what keep the listener intrigued. Emotional song, "Annie" encompasses a moving tale of a girl needing to break free of her mundane life. A relatable track, the listener can sense the passion and heartbreak felt within each line of the song.
City of Black & White is bound to continue Kearney's musical success. Having just ended a tour with Keane, Kearney has a few weeks of relaxation in Nashville before he hits the road once again, this time for his own headlining tour.