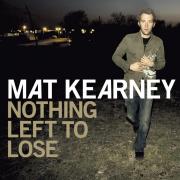 It's clear from the outset that Mat Kearney is something of a different breed. One song, with its acoustic charm and Kearney's signature falsetto will remind you of the best of current pop/rock radio fare. Then the next track will feature Kearney's spoken word delivery and understated vocals, blending folk/rap elements successfully. On Nothing Left To Lose, Kearney weaves effortlessly between the two to create an album that feels both experimental yet cohesive.
Kearney's roots can be found on his previous indie release, Bullet. Tracks such as "Middle," "Girl America," or leadoff effort "Undeniable" have been carried over to the new release and highlight the best of his debut. For fans who are new to Kearney, this is great news as you are truly getting the best of Kearney's songwriting. "Girl America" in particular is a beautiful track of Kearney singing of the problem of the American culture as it pertains to image and pressure for teenage girls to aspire to.
However, Mat Kearney's newest songs are his best ones and there are plenty to be found here as well. Lead single and title-track, "Nothing Left to Lose," features a melody meant to be sung with the windows down and summer riding along. "Crashing Down" invokes the falsetto atop electric riffs that are rarely found on Kearney's releases. More stripped-down efforts show Kearney's heart on songs such as "What's A Boy To Do" and "Where Do We Go From Here."
Lyrically, Kearney has always been open storyteller about his own experiences or those around him. And this is definitely the direction on Nothing Left To Lose. "Can't Break Her Fall" tells the tragic story of Kearney failing to be a support for someone close to him. The themes continue throughout as Kearney opens both his mouth and his heart.
From beginning to end, Nothing Left To Lose is beautiful, honest, and enjoyable all at once. Albums like this are so few and far between that when you do find one, it never leaves your CD player.