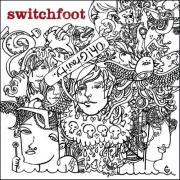 I like Switchfoot. Yes. So I was pleased to have the opportunity a few weeks ago to have a listen to the 12 tracks of Oh! Gravity, set to release on December 26th. At the same time, I was apprehensive after looking at some of the earlier reviews of the disc. I had read that this recording was a bit of a stretch from what we know as Switchfoot. What if I did not like the album?
My first experience with new songs actually began with two back to back concerts in my home state of Pennsylvania. Live performances always taint my view of a recording. This was no exception. Leaving the shows made me crave more.
So, here goes. My first impressions of Oh! Gravity, song by song.
Oh! Gravity - This song is available to hear all over the Net, so there is not a whole lot I can reveal here that is new. Go have a listen yourself. It is a good choice for the first album single, sending a message that Switchfoot has decided to progress into a different direction musically. My favorite part - Jerome's keyboard solo!
American Dream - My first experience with this song was a faint listen during a sound check as I stood outside a venue where Switchfoot was to play that night. Another song that exposes consumerism, the tune rocked during their set. Now that I am more familiar with it, I cannot wait to jump up and down and scream along with Jon at the end of the song.
Dirty Second Hands - I chose this tune for my MySpace profile. I enjoy the bluesy sound of this tune, and I can hear it every time I log on. After a recent show, I overheard someone ask Jon what this song means. I do not always want to understand the meaning of a song. But it was interesting to listen. If you have a chance to ask Jon about the meaning of a song, by all means go for it. It is interesting to chat with him no matter what the topic.
Awakening - Clearly, I can imagine myself pressed against the barrier at a concert in front of the stage, my feet aching and sweat pouring down my face, wishing someone would give me water to quench my thirst. Despite how my body feels, the energy of the music brings me to my feet as I jump up and down yelling, "I want to wake up kicking and screaming," with the rest of the crowd pressed up against me.
Circles - I first heard this song during the time when Nothing is Sound was being recorded. I heard a song clip online, and when I found out the track did not make it onto NIS, I was happy. Jon's vocals in the chorus are reminiscent of "Stars". I actually did not like "Stars" at first, so my first impression of "Circles" left me wondering if it would grow on me as well. At first, I was a bit dizzy. But after a few listens, I think I'll keep it.
Amateur Lovers - Motown? Maybe. Led Zeppelinesque? Maybe. I read all the reviews after I listened to this song several times. I played it for a friend and I said, "I think this has some flavor from the 70's music, don't you think?" My friend did not see what I was talking about. But, apparently the reviewers hear what I hear. My favorite part is knowing what Jon means by "the 805" and "the 405." One trip to SoCal and I understood. And the ending is fun. You will just have to listen to it for yourself.
Faust, Midas and Myself - The album slows down a bit here. A rock ballad perhaps? Melodic? Yes. As I listen intently on the lyrics, I can picture the story unfold in my head. The music in some ways is less important to the lyrics. This is not a song I can imagine ever hearing live. Yet, somehow, somewhere, someone will ask Jon to sing the song.
Head Over Heels (In This Life) - The music picks up again on this song. Yet the general feel is more pop than rock. Radio-friendly? Ah, but I can see people extrapolating that, "In this life, you're the one place I call home/In this life, you're the feeling I belong" as a love song written to God. It is one of those generic love songs for anybody, I suppose.
Yesterday - Another slow song. I remember thinking upon my first listen that the song had somewhat of a lounge feel to it. The tone of the song goes well with the theme of missing a loved one. I have not heard - is this song written about someone specific? I would guess each listener can relate to the issue brought out in this song.
Burn Out Bright - I guess in some ways this is the most distinct Switchfoot-sounding song. If there is such a thing. Sure, if I took all Switchfoot songs into consideration, I would not come up with the same conclusion. It's a fast song with a good sing-along type chorus that would go well into a Switchfoot live set. It is a song that cries out to be loud. This could be the song that finally kills my old car stereo speakers.
4:12 - Another song with influences from older rock. If I did not recognize Jon's vocals and deep thought-provoking lyrics, I may not know it is Switchfoot. It has a different flavor to it. I would not want all their songs to go this way, but I do like it. The feeling of "Souls aren't built of stone/Sticks and bones/And souls aren't built of stone," is just fun at the end.
Let Your Love Be Strong - The acoustic guitar beginning of this song continues throughout as Jon's vocals take over. I imagine this song being on Jon's list of acoustic songs to sing when someone broke a string. I guess I have been to enough shows when something like that has happened. It is a good way to end the album.
In conclusion, my first thought was that forty-four minutes and forty-nine seconds is not enough. It was too short. Why not more? But in the end, I left pondering that while musically the album is different than the band's earlier efforts, lyrically the contemplation and introspection are still decidedly Switchfoot. Now I will just have to wait to see what exclusive songs Target and Wal-Mart will have to add to the mix.